Conscious Skincare: Leading the way in cruelty-free and sustainable cosmetics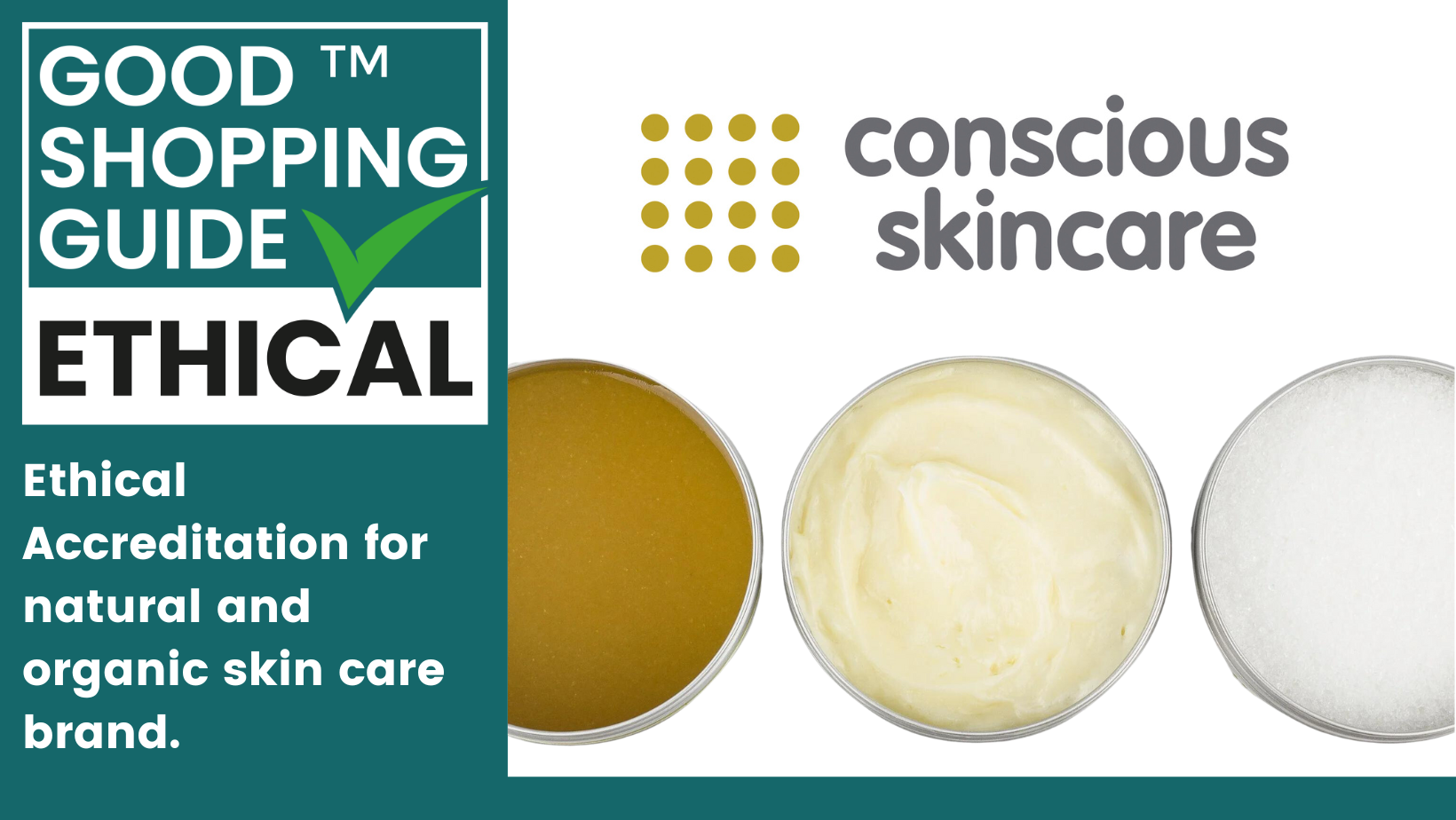 At The Good Shopping Guide, we are delighted to announce that Conscious Skincare has recently been awarded Ethical Accreditation. This reflects Conscious Skincare's unwavering commitment to ethics, sustainability and making a positive impact on our planet. The brand has therefore achieved an outstanding score of 99 in our Skincare, Soap & Shower Gel and Shampoo & Conditioner ratings tables.
Conscious Skincare is not just another skincare brand; it is a movement towards a more sustainable and ethical beauty industry. From the very beginning, Conscious Skincare's mission has been to provide high-quality skincare products while minimising its environmental footprint and promoting ethical practices.
Conscious Skincare takes pride in sourcing the most sustainable ingredients for its products. Its products use certified organic and natural ingredients that are kind to your skin and the environment. By avoiding harsh chemicals, artificial fragrances, and synthetic preservatives, Conscious Skincare ensures that its products are safe and beneficial for all skin types.
Animal welfare is at the core of Conscious Skincare's philosophy, which has resulted in full marks in the Animals section of our research assessment. Conscious Skincare is committed to never testing its products on animals and is proudly certified by Naturewatch and PETA.
Additionally, Conscious Skincare's entire product range has achieved vegan certification from The Vegetarian Society, meaning no animal-derived ingredients are used at any stage of the manufacturing process. This dedication to animal welfare ensures that you can enjoy your skincare routine with a clear conscience.
Conscious Skincare also achieved an excellent score for the Environment. The company goes the extra mile to reduce its environmental impact through sustainable packaging choices, minimizing plastic waste and encouraging customers to adopt eco-friendly practices. Moreover, Conscious Skincare strictly prohibits the use of palm oil, which helps to minimise the environmental impact and overall carbon footprint of its products.
By choosing Conscious Skincare, you can become a part of a global movement towards a more ethical and sustainable future. The company's dedication to ethics and sustainability sets a high standard for the beauty industry, inspiring other brands to follow suit.
We are proud to award Conscious Skincare our Ethical Accreditation and recognise their efforts to make the world a better place, one skincare product at a time. If you are looking for sustainable skincare, we encourage you to explore Conscious Skincare's product range and join us in supporting this ethical and sustainable brand.
Make the conscious choice today – choose Conscious Skincare.
Sign up to our newsletter