Growing the ethical and sustainability movements…
Today, The Good Shopping Guide is very well established as a leading independent authority on the ethical comparisons of companies and brands.  Starting with our ten reference books and following with our free-access online data, we influence a range of interest groups including: journalists, investors, company policy makers, trade buyers, employees and consumers.
But, our work actually began over 20 years ago, long before the concept of ethical companies and brands had become prevalent in the mainstream. It was clear by the 1990s, that our world was suffering at the hands of unethical companies. In the pursuit of profits, companies were routinely causing widespread damage to millions of people, animals and the wider environment. And, unethical company practices in the late 20th century spread appalling misinformation through campaigns which denied that carbon emissions cause climate change; that smoking causes cancer; that oxycontin is addictive; that formula is best for all babies.
Corporate political donations to both left and right parties routinely warped law-making democracies away from citizens and in favour of serving corporate interests. Big brands were free to sell us whatever they wanted, and not what we needed.
Not all companies and brands were the same, however, with a handful following a progressive and sustainable agenda.
In those early days of our work, The Good Shopping Guide envisaged the power of a true economic democracy. If we could publish reliable research about brands and their activities, ethical consumers could easily choose whether to buy from a brand or boycott. Consumers, trade buyers and investors would be empowered to vote with their money. The public could have the power to change the course of climate change and could help stop global warming or human trafficking, animal abuse, overfishing, the fur trade, habitat loss, and the poverty cycle, by investing in sustainable companies.
This is why we invented The Good Shopping Guide, the world's best-selling ethical shopping reference book. It provides an independently researched ethical comparison of companies and brands. After 11 bookshop editions, this information is now freely available on our website, for all the world to see.
Our Good Shopping Guide Ethical Scores are widely trusted because we factor in both positive and negative issues, thereby cutting through greenwash and other sources of misinformation. The Good Shopping Guide has served millions of consumers, trade buyers, investors, employees and journalists. Our research and ethical ratings provide an overarching score resultant from thousands of expert sources. We use everything from court and NGO reports to other certification bodies in our research. For example, we may give a brand one extra point for successful B-Corp certification, but we will simultaneously subtract points from that same brand for unethical human rights or animal welfare abuses. Everything is thereby factored into our GSG Ethical Scores.
Our Ethical Accreditation is an important part of the work we do. We award our Good Shopping Guide Accreditation to brands, products and companies who are wholeheartedly invested in the future of People, Animals and our Environment. By meeting these standards of ethical business practice, companies are able to prove to consumers, investors, the press and employees, that this is a business worth your time.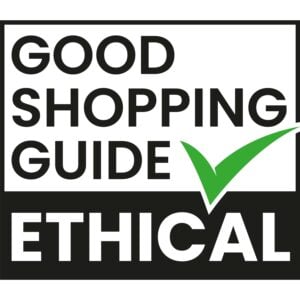 The Good Shopping Guide remains of historical importance…we can all easily support animal welfare, human rights and the environment"
Alastair Fothergill, Producer of David Attenborough's Blue Planet & Life in the Freezer

The Good Shopping Guide provides the benchmark for consumers to be able to buy the best products from the best companies''
Juliet Davenport, OBE

The Good Shopping Guide provides everyone with the information they need to persuade powerful companies to behave more responsibly"
Tony Juniper, Friends of the Earth (now Chair of Natural England)