Ethical Accreditation awarded to cheddar cheese brand Golden Hooves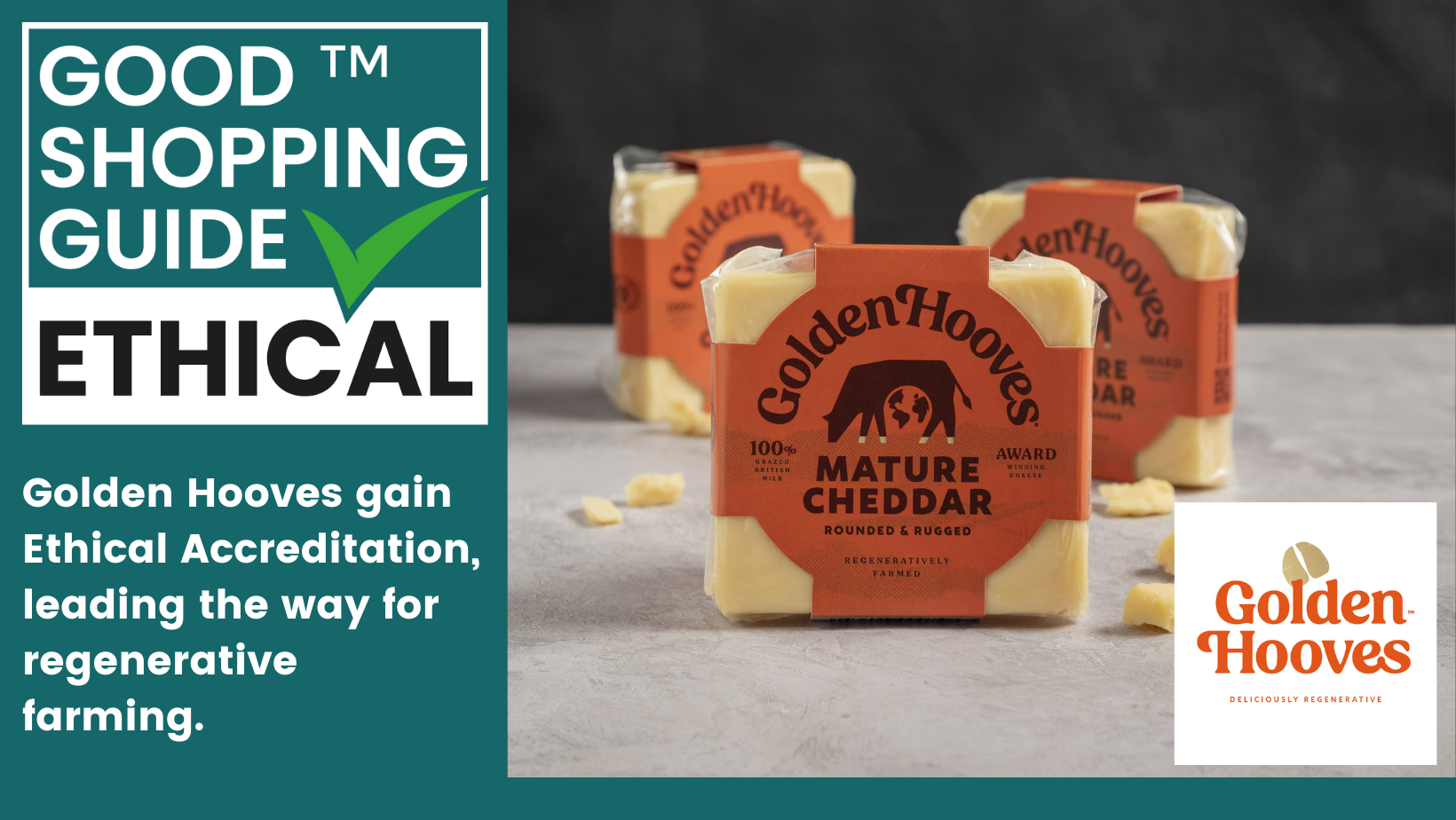 We are very pleased to announce that after a careful examination of the brand's policies and practices, Golden Hooves has obtained The Good Shopping Guide's Ethical Accreditation!
Gaining accreditation demonstrates the brand's dedication to sustainable and ethical dairy farming, and it's clear that this is a very firm focus for the brand owned by First Milk.
In a world where customers are more aware of the effects of their choices on the environment and animal welfare, Golden Hooves stands out for its dedication to making a difference.  The brand promotes regenerative farming, biodiversity preservation, and carbon sequestration whilst upholding the greatest standards of animal welfare – it is not simply another cheese company.
Regenerative farming is one of the cornerstones of the Golden Hooves mission.  Its farming methods actively repair the health of the soil and stop the loss of biodiversity.  It is also keen to get more people to join the discourse about regeneration, since the dietary choices of consumers have a huge impact on the environment.  Golden Hooves hopes to spark a positive change that spreads throughout the food business by offering consumers an ethical and environmentally friendly option in the dairy aisle, identifying itself as a brand that cares about the welfare of the earth, rather than simply profit.
Another primary focus for Golden Hooves is animal welfare, as demonstrated by its extensive Animal Care Policy.  Parent company First Milk ensures that all members have a Red Tractor Dairy certification, confirmed by unbiased auditing that confirms adherence to stringent requirements for animal care, including the Five Freedoms.  These requirements cover everything from secure housing and handling, to suitable feeding, watering, and medical attention for the animals.
Golden Hooves is a great example of ethical and sustainable farming methods.  It's devotion to carbon sequestration, biodiversity preservation, and regenerative farming distinguishes them as a brand that genuinely cares about the environment.  Golden Hooves has established itself as a brand which is good for the planet, people and animals, which has been verified through successful Ethical Accreditation from The Good Shopping Guide.
We can choose to buy brands like Golden Hooves to advance the cause of a more humane and sustainable future.  Visit the Golden Hooves website to find out where you can buy its cheese, and visit its brand page to read more about our research findings.
Sign up to our newsletter