Great news for Goood as the dog food brand is awarded Ethical Accreditation for yet another year!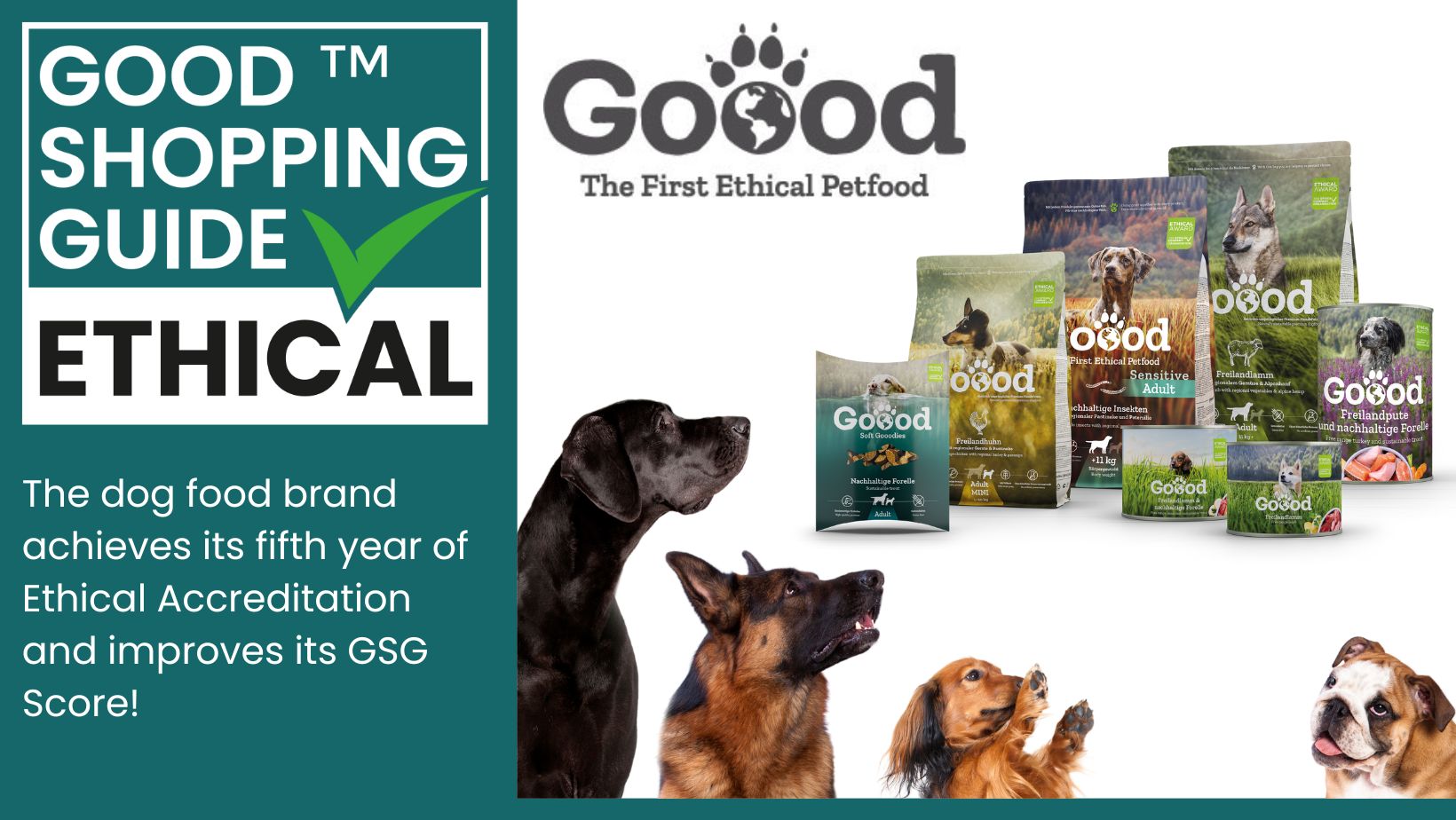 We are delighted to announce that Goood dog food, the German-based company, has been awarded Ethical Accreditation by The Good Shopping Guide for the fifth year in a row! The brand has received a top-ranking GSG Score of 100, demonstrating its commitment to ethical practices all round.
Goood takes pride in producing GMO-free goods and confirms that none of its products have ever been subjected to animal testing. The company recently revealed that it plans to introduce a vegan and organic product that will carry the Bio-Siegel and V-Label certifications, a demonstration of its dedication to developing products that are both ethical and sustainable.
Goood is making efforts to become carbon neutral by offsetting carbon emissions, and its products use recyclable packaging. Additionally, Goood has a social projects program through which it carries out volunteer work with homeless dogs and The Bumblebee Conservation Project. These extra efforts demonstrate a strong dedication to animal welfare as well as having a positive environmental impact on a wider scale.
Maintaining its status as an accredited brand demonstrates Goood's commitment to making food that is good for both dogs and the environment. The company's dedication to developing ethical and ecological products is demonstrated by top ratings across all of our criteria. Goood's recent announcement of the debut of a vegan and organic product demonstrates its capacity for innovation and dedication to making goods that are consistent with the company's ideals.
It's more important than ever before that consumers make ethical and sustainable choices across all sectors, and it's a given that pet owners all want the best for their furry friends. Using The Good Shopping Guide's Ethical Ratings Table for Cat & Dog Food will give you all the information you need to make the smart choice for your pet and the planet.
Sign up to our newsletter