A big day for Mr Bug! The insect-based dog treat Brand gains Ethical Accreditation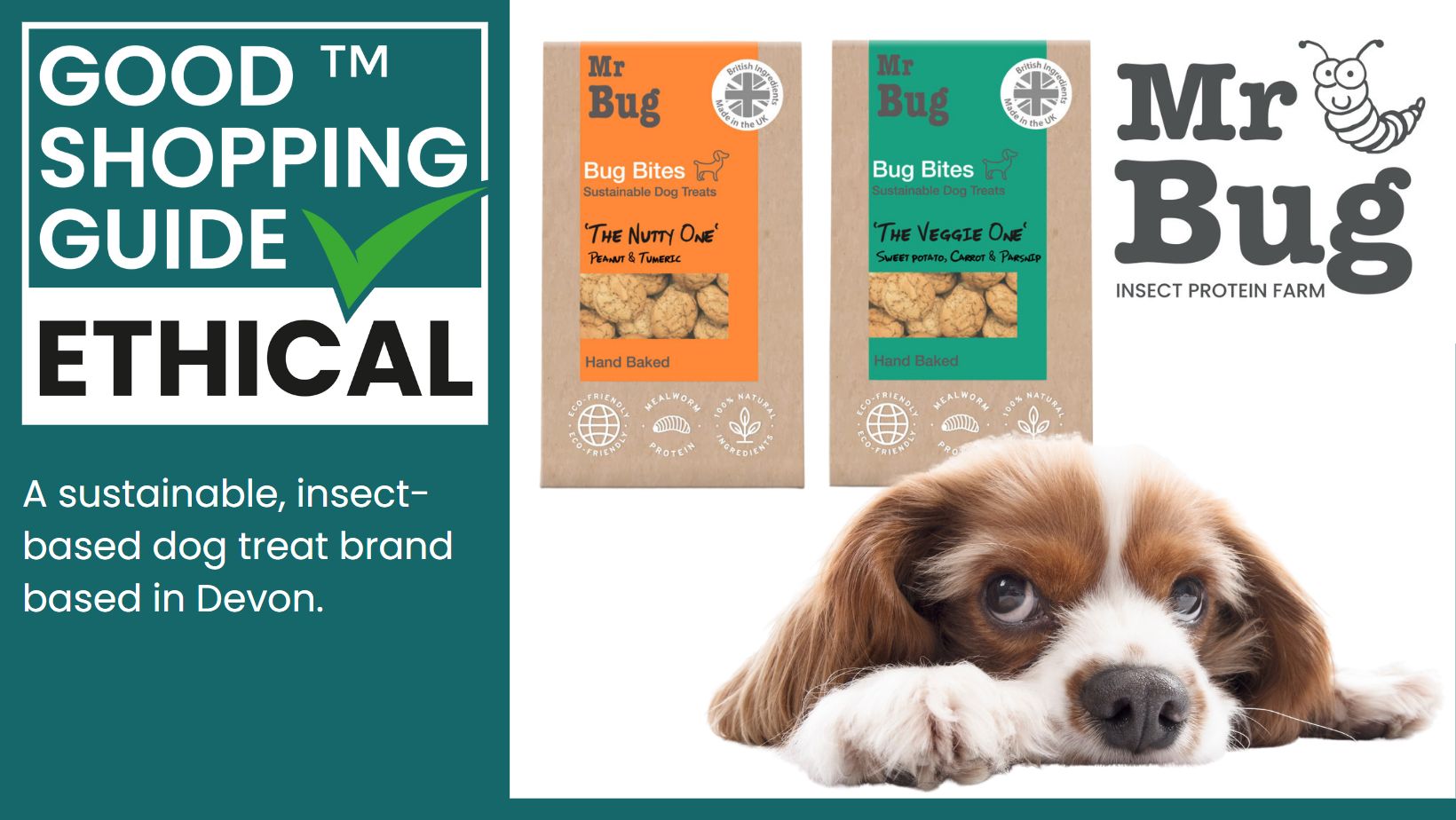 The thought of eating insects may not appeal to most humans, but there's no doubt that they are a valuable protein resource for the future. Mr Bug is a fantastic forward-thinking dog treat brand which has just been awarded The Good Shopping Guide's Ethical Accreditation.
Mr Bug's new Bug Bites range of dog treats comes in four great flavours: Chicken & Herb, Beef & Vegetable, Salmon & Sweet Potato, and Duck & Cranberry. These treats are made with only natural ingredients and mealworm protein, which is highly nutritious and digestible. They are also wheat-free and hypoallergenic, making them great for pets with sensitive tummies or allergies.
Mr Bug is a UK-based company that breeds, processes and produces insect-based dog treats on its farm in Devon. The company's mission is to provide environmentally friendly dog treats with a low carbon footprint. Insects such as beetles (of which mealworms are the larval form) have a significantly lower carbon footprint than traditional meat products, making them a more sustainable option. It utilises a well-insulated vertical farm in its production, and as mealworms create their own warmth and do not need lighting for growth, minimal power is used in their breeding. The production of insect protein also uses significantly less water and land than that needed to produce meat.
In addition to their sustainable practices, Mr Bug is also committed to ethical business practices. The company is EDI (Equality, Diversity & Inclusion) compliant and has no involvement in animal testing, no criticisms found for issues such as poor environmental practices or human rights abuses, and has made no political donations.
Perhaps one of the most impressive aspects of Mr Bug's brand is that their products are British-made from source to shelf, ensuring that the protein used in their treats is of the highest quality. This not only supports local farmers but also reduces supply lines, which is better for the environment.
Mr Bug's Bug Bites dog treats come in recyclable packs, making them a great choice for pet owners who want to reduce their carbon footprint. The company's website outlines their mission and commitment to sustainability, providing transparency for consumers who want to make an informed decision about the products they purchase for their pets.
As we become more aware of the impact our actions have on the environment, it's great to see companies like Mr Bug stepping up and offering a sustainable and ethical option for pet owners. Not only are their products better for the planet, but they are also nutritious and delicious for our furry friends.
We are delighted to offer our endorsement of Mr Bug with Ethical Accreditation, which is well deserved in recognition of  its commitment to sustainability and ethical business practices. If you're looking for a sustainable and ethical option for your dog, give Mr Bug a try – your pet (and the planet) will thank you for it!
Sign up to our newsletter