Another year of excellence for ethical health and beauty company, Neal's Yard Remedies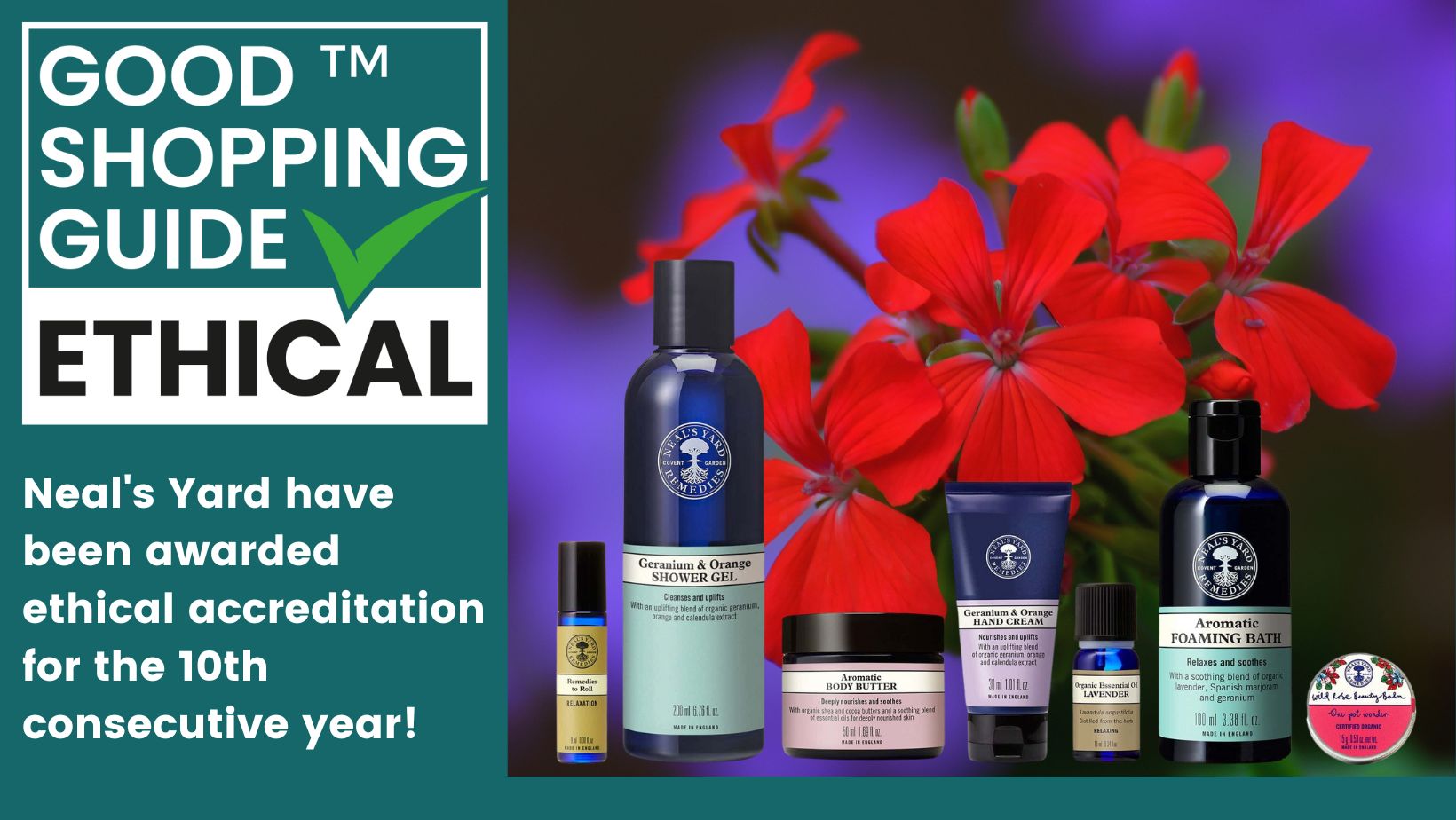 The Good Shopping Guide is celebrating Neal's Yard Remedies' 10th year as an Ethical Accreditation member! The brand continues to receive an outstanding GSG score of 100 in our Skincare Ethical Comparison Table. Neal's Yard also receives the top score in other sectors including Soap & Shower Gel, Make Up, Shampoo & Conditioner, Vitamins & Supplements, Cold Remedies and Pain Remedies.
Neal's Yard Remedies has upheld ethical values since its establishment in 1981. The company uses sustainably sourced natural and organic ingredients, with many of its products approved as organic by the Soil Association. This demonstrates the brand's commitment to furthering environmental progress through supporting sustainable and organic farming methods, which help to reduce soil pollution and environmental damage through avoiding the use of pesticides and herbicides.
Neal's Yard Remedies' environmental achievements also include it being granted status as a Carbon Neutral company, the result of a comprehensive carbon offsetting program that has been in place since 2008. The company has also taken several steps to minimise the environmental impact of its packaging and products. Neal's Yard uses FSC certified or recycled paper and card for its packaging, as well as reusable and refillable glass bottles for its product containers. These practices reduce the consumption of single-use plastics, thus limiting plastic pollution and environmental waste.
Upholding strong animal welfare values is another example of Neal's Yard Remedies' ongoing ethical achievements. The company has achieved Leaping Bunny certification from Cruelty-Free International , which confirms that no animal testing occurs on any Neal's Yard products. Additionally, Neal's Yard has products approved as vegan by The Vegetarian Society, making them suitable for consumers following a plant-based lifestyle.
The most exemplary ethical companies seek to make the world a better place through involvement in social or environmental initiatives. Neal's Yard is an excellent example of this, as the company is involved in a wide range of charity partnerships. The brand has supported the Nature Friendly Farming Network (NFFN), a sustainable farming organisation that promotes the use of organic and regenerative farming practices. Neal's Yard donated 50p from every transaction made over the 2022 Black Friday weekend to NFFN's peer-to-peer learning programme.
Similarly, Neal's Yard supports bee conservation work by donating 10% of the profits from its Bee Balm product to The British Beekeepers Association, which works to protect bees and bee habitats, and promote beekeeping. The company has also worked with the World Land Trust and The Eden Project on further charitable initiatives.
Neal's Yard Remedies continues to be a shining example of an ethical and sustainable company. The company seeks to make the world a better place through offering cruelty-free and environmentally friendly products, as well as channelling its profits into important causes. Neal's Yard is well deserving of its longstanding Ethical Accreditation membership from The Good Shopping Guide.
Visit the Neal's Yard website to find out more about the company and its products, or check out its brand page to see a breakdown of how Neal's Yard was rated in our research.
Sign up to our newsletter