Pioneering Ethical Health & Beauty: Neal's Yard Remedies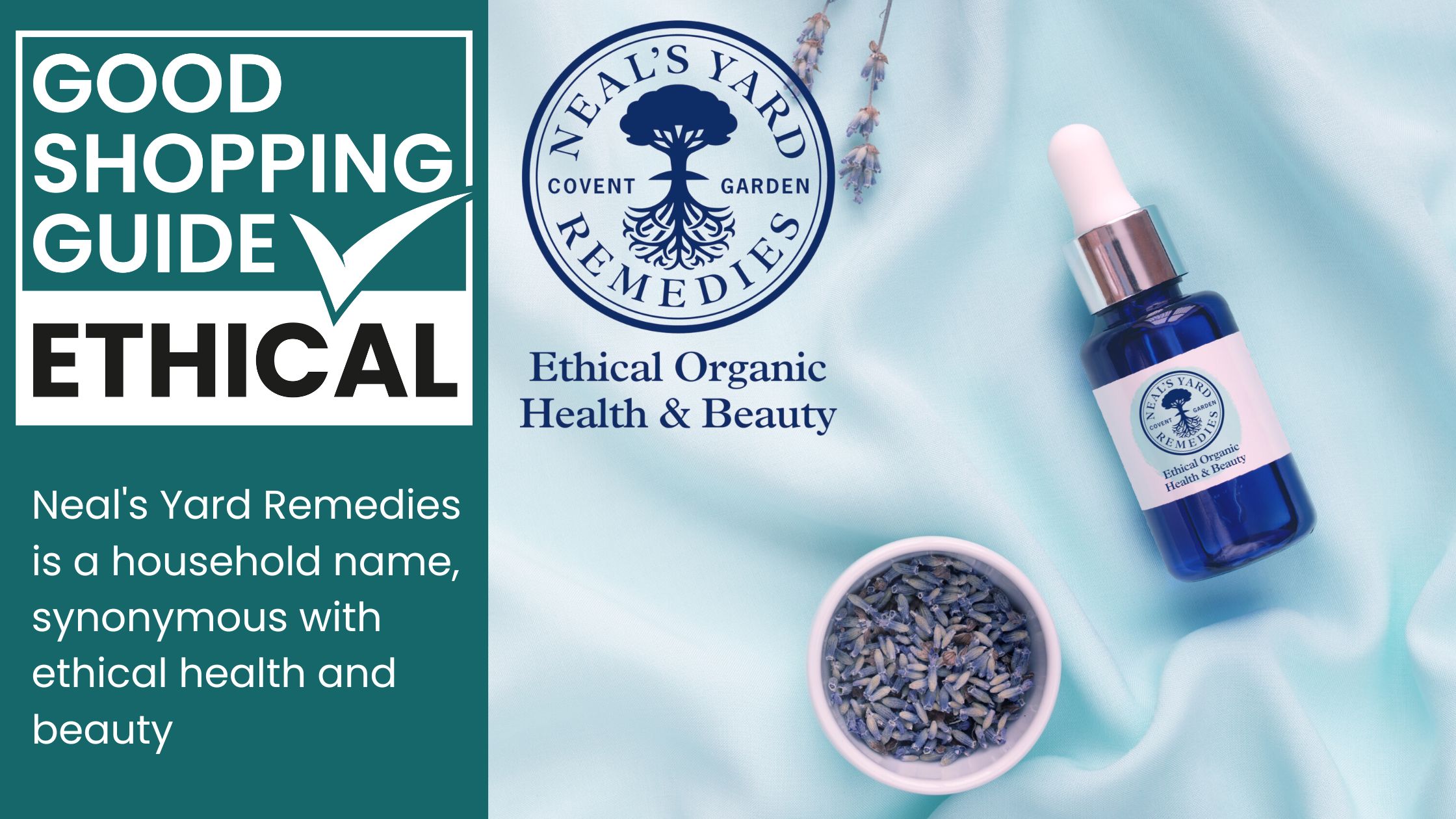 Ethical industry leader, Neal's Yard, achieves Ethical Accreditation for the 9th time!
The Good Shopping Guide is proud to announce that Neal's Yard Remedies has attained our Ethical Accreditation for the 9th consecutive year. Neal's Yard Remedies has produced various Health & Beauty products since 1981, with a strong focus on incorporating natural and organic ingredients across all product lines.
From these humble beginnings, Neal's Yard Remedies since has blossomed in terms of both success and acclaim due to its iconic concept of adapting the foundation of traditional apothecaries to fit today's modern needs. Currently, it has expanded the reach of its services across 5 continents, whilst refusing to compromise its ethical standing along the way. This is reflected in the scoring across our various Ethical Ratings Tables that feature Neal's Yard Remedies, such as Ethical Make-Up, Ethical Skincare and Ethical Shampoo & Conditioner, to name but a few.
From having first received our independent Ethical Accreditation in 2014, Neal's Yard Remedies has consistently been one of the top-scoring companies within our Health & Beauty sector. This is due to consistent consideration across the 3 key areas of our assessments – Environment, Animals and People, in addition to various sector specific-criteria.
Examples of various pioneering environmental initiatives it has introduced includes all paper and card packaging being made from sustainable, recycled sources, certified by both FSC and PEFC. Furthermore, all plastic bottles are made from either recyclable and reusable glass or recyclable plastic. Neal's Yard Remedies is not simply producing recycling, however, but incorporates it into its production. Currently, all bottles up to 200ml in size are made from 100% recycled plastic, as the first step of its transition to have all plastic bottles made from only 100% recycled sources by 2025.
In addition to environmental matters, animal welfare is another issue taken extremely seriously. From conception, Neal's Yard Remedies has stood vehemently against all forms of animal testing and cruelty. This is further evident through the commitment to meet the standards of Cruelty Free International's Leaping Bunny and PETA's Beauty Without Bunnies certification schemes.
In conclusion, Neal's Yard Remedies are pioneering the space of Health & Beauty from an ethical standpoint. The above-mentioned includes but a few examples of the ethical initiatives incorporated by Neal's Yard Remedies, making it no wonder that it achieves a top GSG Score across multiple different Ethical Rating Tables on The Good Shopping Guide. Given this, it is safe to say that Neal's Yard Remedies has revolutionised what it means to be an ethical Health & Beauty company and is a force to be reckoned with. We cannot wait to see what the future holds in store for Neal's Yard Remedies and how the overall Health & Beauty industry can follow in its footsteps.
Find out more about Neal's Yard Remedies on its website: www.nealsyardremedies.com
If your brand is interested in becoming Ethically Accredited with The Good Shopping Guide, you can fill out our Initial Assessment Form here.
Sign up to our newsletter