Ethical and Fairtrade Jeweller has been awarded Ethical Accreditation.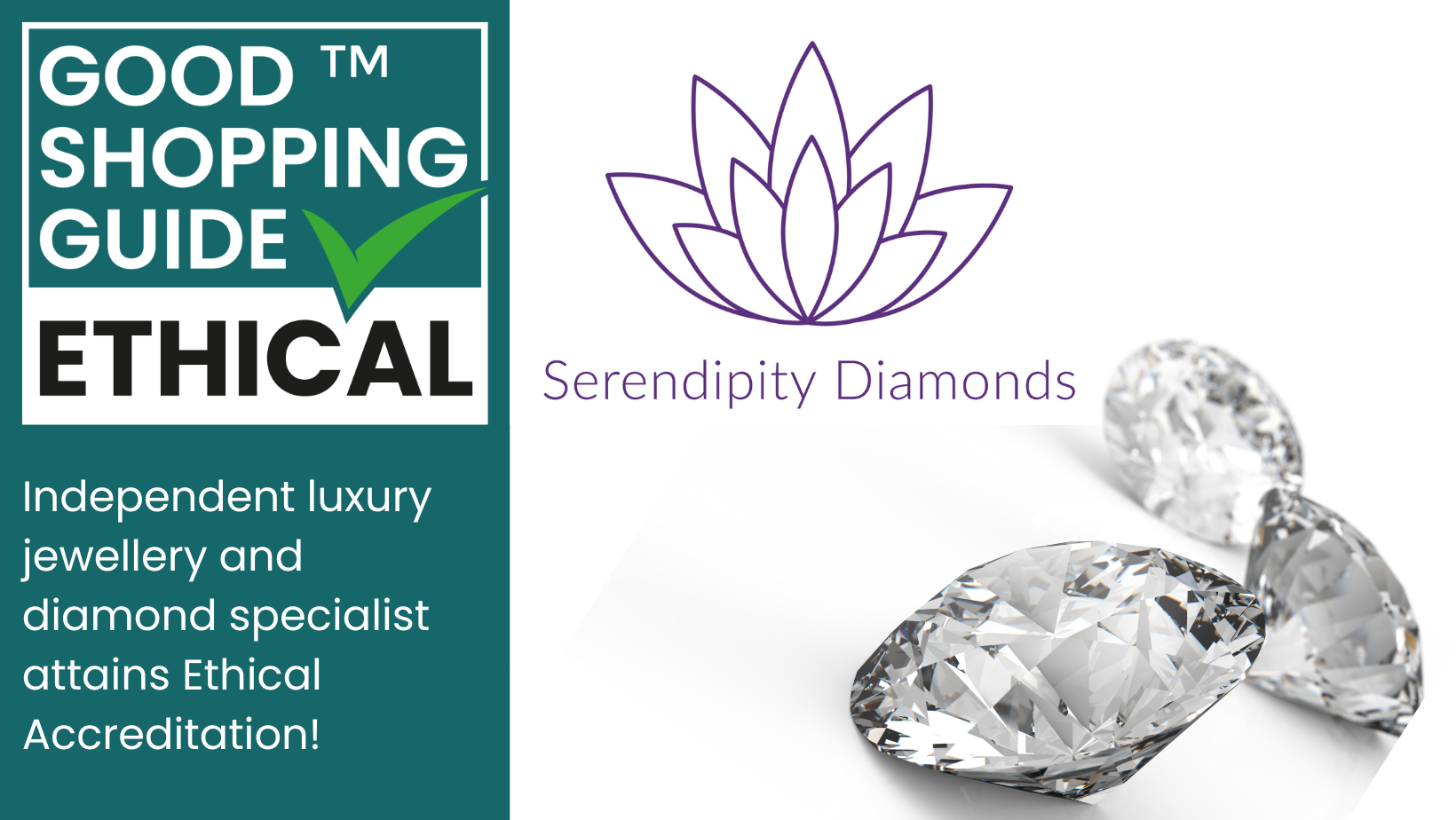 Serendipity Diamonds, a luxury jewellery company specialising in ethically sourced diamonds, precious metals and gemstones, has attained Ethical Accreditation from The Good Shopping Guide. This achievement is a result of our detailed and rigorous examination of the company's policies and practices, which verifies the company's ethical status. Serendipity Diamonds receives an outstanding score of 100 in our Ethical Jewellery Ratings Table after achieving a top rating in all categories of our Jewellery assessment.
Serendipity Diamonds prioritises responsible sourcing of materials when manufacturing its products, demonstrating that buying luxury jewellery doesn't mean you have to compromise on ethics. The company uses Fairtrade gold and recycled precious metals in its jewellery, whilst ensuring that all its diamonds are either lab-grown or sourced from conflict-free countries. This is an important ethical attribute of the brand, as using Fairtrade gold and ethical diamonds minimises the risk of human rights abuses occurring in the company's supply chain.
The brand's use of responsible materials also reflects its environmental commitments. As well as the obvious benefits of using recycled metals, responsibly sourced materials, such as Fairtrade gold and ethically sourced diamonds, are typically made with higher environmental standards. Due to its impressive sourcing policies, Serendipity Diamonds receives a top rating in the Fairtrade and Responsible Diamonds categories of our research.
Moreover, Serendipity Diamonds goes beyond ethical sourcing and seeks to address other sustainability issues within its business. The company has taken steps to address energy consumption, recycling and sustainable packaging and was therefore awarded a top rating for its Environmental Report.
We are pleased to welcome Serendipity Diamonds into our community of Ethical Accreditation members, which consistently prove that respecting the Environment, Animals and People when producing high quality products and services is highly achievable.
Visit the Serendipity Diamonds website to explore the company's ready-made jewellery and see its options for bespoke products.
Sign up to our newsletter