Toast Brewing: Battling food waste one sip at a time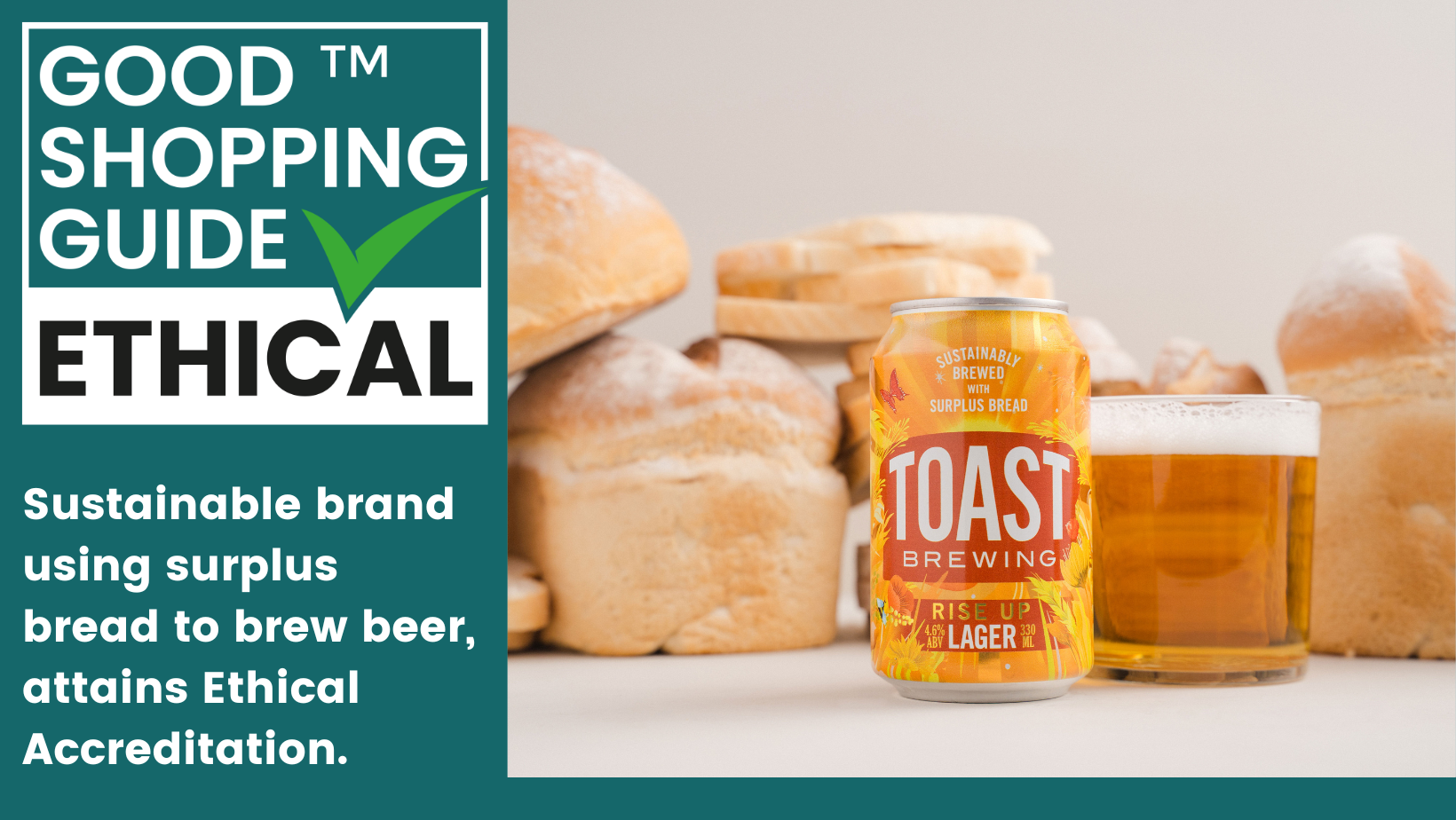 At The Good Shopping Guide, we are dedicated to recognising and celebrating companies that go above and beyond in their commitment to ethical practices. We are therefore thrilled to announce that sustainable beer company Toast Brewing has attained Ethical Accreditation, following a detailed assessment of its ethical policies and practices.
Toast Brewing has achieved an impressive score of 91 in our Beer, Lager & Cider Ethical Comparison Table, placing it at the top of the ratings. This includes a top rating for the Environmental Report category, due to its extensive environmental policies and sustainability commitments. Additionally, Toast Brewing receives full marks in the Animals assessment, as all Toast Brewing products are free from animal-derived ingredients.
At the heart of Toast Brewing's ethical journey lies a unique and sustainable ingredient: bread. Toast Brewing takes surplus bread that would otherwise go to waste and transforms it into craft beer. By repurposing bread as a primary ingredient in its brewing process, Toast Brewing is ensuring that perfectly good food does not go into landfill. This innovative approach not only helps reduce food waste but also shows the creative potential of sustainable products.
Moreover, Toast Brewing prioritises making a positive impact on the planet over making money for its executives. That is why all distributable profits from Toast Brewing products are donated to charities focused on positive environmental change. For instance, Toast Brewing has donated £74,000 to food charities and works with The Rainforest Trust and Soil Heroes to protect endangered forests and encourage regenerative farming.
Toast Brewing's Ethical Accreditation is well-deserved and serves as an inspiration to other companies in the beverage industry. By choosing Toast Brewing, you're not only enjoying a tasty beverage but also contributing to a more sustainable and ethical world. Cheers to Toast Brewing, the newest addition to our list of accredited ethical brands!
See Toast Brewing's selection of beers, ales and lagers on the company website.
Sign up to our newsletter