Wild Fawn Jewellery joins growing list of Ethical Accreditation members.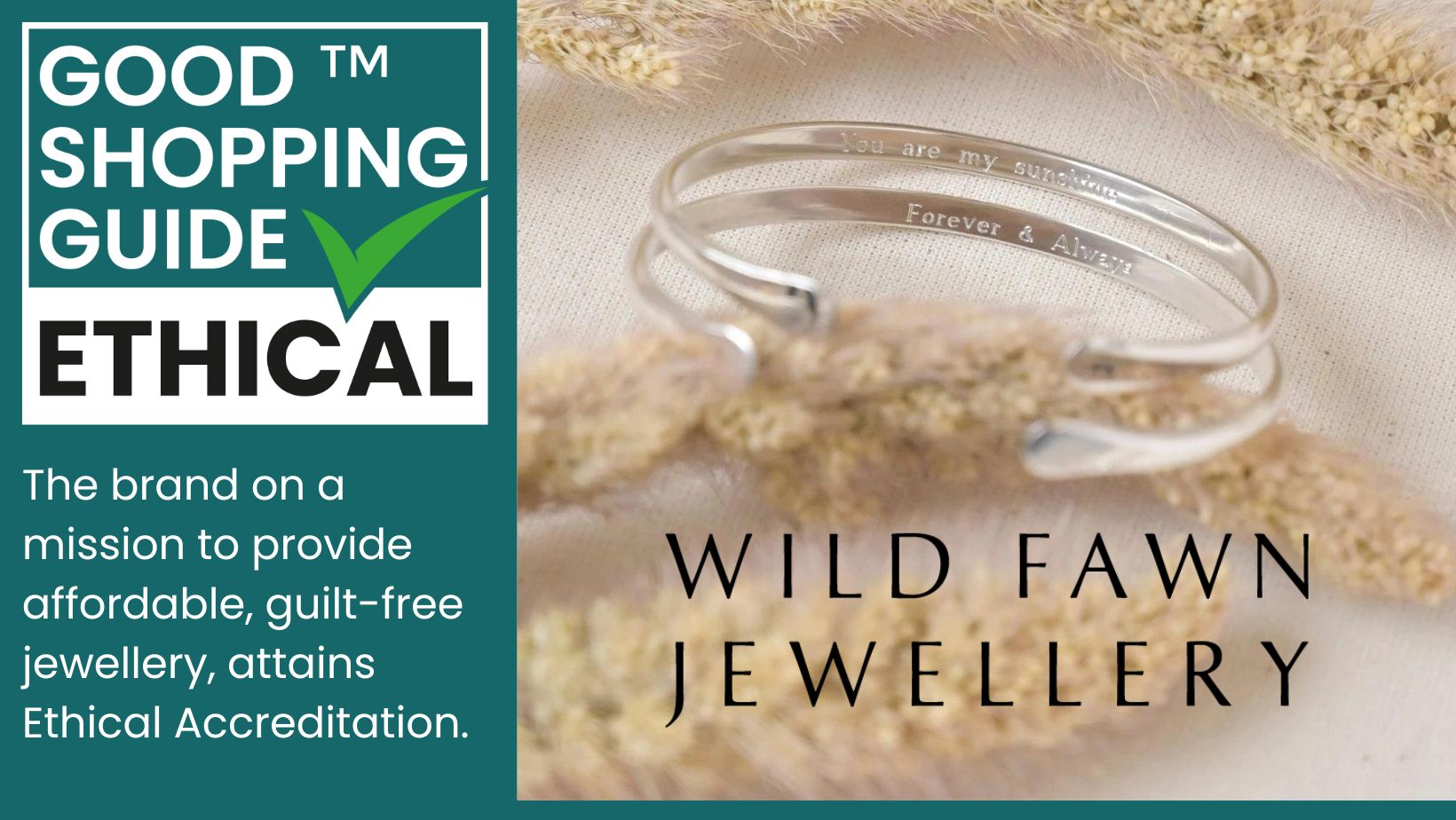 The Good Shopping Guide is delighted to announce that Wild Fawn Jewellery has joined our ever-growing list of Ethical Accreditation member companies, following a rigorous assessment of the company's policies and practices towards the Environment, Animals and People.  The brand passed our ethical assessment with flying colours, achieving an impressive GSG score of 100 – the highest possible score in the Jewellery sector.  You can see Wild Fawn's excellent rating in our Ethical Jewellery Ratings Table.
Wild Fawn is an ethical and sustainable jeweller that offers handmade jewellery manufactured with eco-friendly materials.  Wild Fawn's mission is to provide its customers with affordable, guilt-free jewellery produced with human rights and sustainability in mind.  People over profit is one of Wild Fawn's core values – the company ensures that it will never contribute to poor working conditions or environmental degradation to line its own pockets.
Wild Fawn was awarded a top rating in the Fairtrade and Responsible Diamonds criteria of our ethical assessment, due to its responsible sourcing policies.  All the precious metals used in Wild Fawn jewellery are either Fairtrade or recycled and all its diamonds are lab-grown.  Recycled metals and lab-grown diamonds come with a significantly lower environmental impact, as no mining is required in the process of obtaining these materials.  Additionally, lab-grown diamonds and Fairtrade gold are typically produced with a greater respect for human rights.
Wild Fawn's environmental commitments go beyond its responsible sourcing commitments, the company has also taken steps to improve the sustainability of its packaging.  The jewellery boxes are handmade in Bali using 100% post-consumer recycled paper gathered from schools, offices, hotels and paper waste found in the streets of Bali.  Additionally, the postal envelopes and printer paper are certified by the Forest Stewardship Council, which helps to ensure that the paper is produced sustainably.  As a result of its extensive environmental commitments, Wild Fawn achieved a top rating in the Environmental Report category of our assessment.
Furthermore, Wild Fawn pays close attention to human rights and working standards within its business.  This includes ensuring safe working conditions, fair pay, no discrimination and the elimination of child labour and exploitation.  Wild Fawn therefore demonstrates its commitment to ensuring that the people involved in the production of its jewellery are treated fairly and with respect.
Wild Fawn is a shining example of what companies can achieve when they prioritise human rights and sustainability over profit.  The Good Shopping Guide is pleased to work with a company that upholds such strong ethical values.  Wild Fawn truly deserves its status as one of our Ethical Accreditation members and we look forward to seeing what the company does next!
Visit the Wild Fawn website to explore the brand's handmade ethical jewellery.
Sign up to our newsletter