How ethical is Po-Zu?
Po-Zu, an ethical footwear brand specialising in sustainably-made shoes, is one of The Good Shopping Guide's top-rated ethical brands. 
The brand receives an excellent Good Shopping Guide ethical score of 93 in our Ethical Shoes & Trainers Ratings Table and therefore successfully passes our ethical benchmark.
We encourage other companies in the Shoes & Trainers sector to follow Po-Zu's example and adopt more ethical policies and practices.
In which areas does Po-Zu perform well? 
Po-Zu performs well across many areas of our Shoes & Trainers assessment, which includes human rights, animal welfare, and sustainability commitments.
Po-Zu places a clear focus on the sustainability of its products, which includes selling products made from organic and eco-friendly materials. The brand therefore receives a top rating in the Sustainable Materials category.
Po-Zu is also awarded a top rating for the Code of Conduct category since it has a robust policy which sets standards for the ethical treatment of its supply chain workers. 
Po-Zu's commitment to ethical supply chain practices is reflected in the fact the brand receives a top rating in the Human Rights category. 
This confirms that the brand has not been criticised for inhumane or abusive treatment of its workers, either directly or through its suppliers.
What makes Po-Zu so sustainable?
Po-Zu is a London-based sustainable footwear brand, launched in 2006 with the aim of setting new standards in ecological footwear manufacturing.  
The brand's goal is to provide maximum comfort and pleasure for the people who wear its shoes while ensuring the shoes are ethically sourced and manufactured.  
Po-Zu carefully selects only natural biodegradable materials which are free from harmful chemicals and are organically certified where possible. 
Harmful glues are avoided by stitching the shoes together, which also makes them more breathable, durable, repairable, and recyclable. 
How did Po-Zu attain Ethical Accreditation? 
Po-Zu has attained Ethical Accreditation from The Good Shopping Guide. This involved an application process and a full review of the brand's ethical policies and practices. Po-Zu is subject to an annual review to ensure the company maintains high ethical standards.
As a result, Po-Zu is permitted to use our Good Shopping Guide Ethical logo, which certifies the brand's ethical status and allows consumers to recognise Po-Zu as an ethical brand.
Ethical performance in category
0
64
GSG category benchmark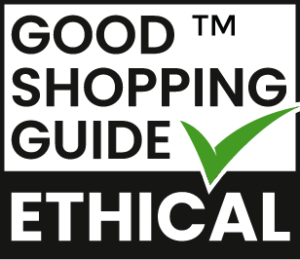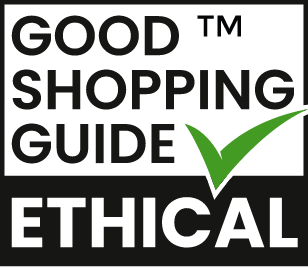 Awarded Ethical Accreditation
Ethical Rating
Environment
Environmental Report

Good

Sustainable Materials

Good
People
Ethical Trading Schemes

N/A
Other
Ethical Accreditation

Good
= GSG Top Rating = GSG Middle Rating = GSG Bottom Rating