Charitable and Ethical Vegan Vitamins: Viridian Nutrition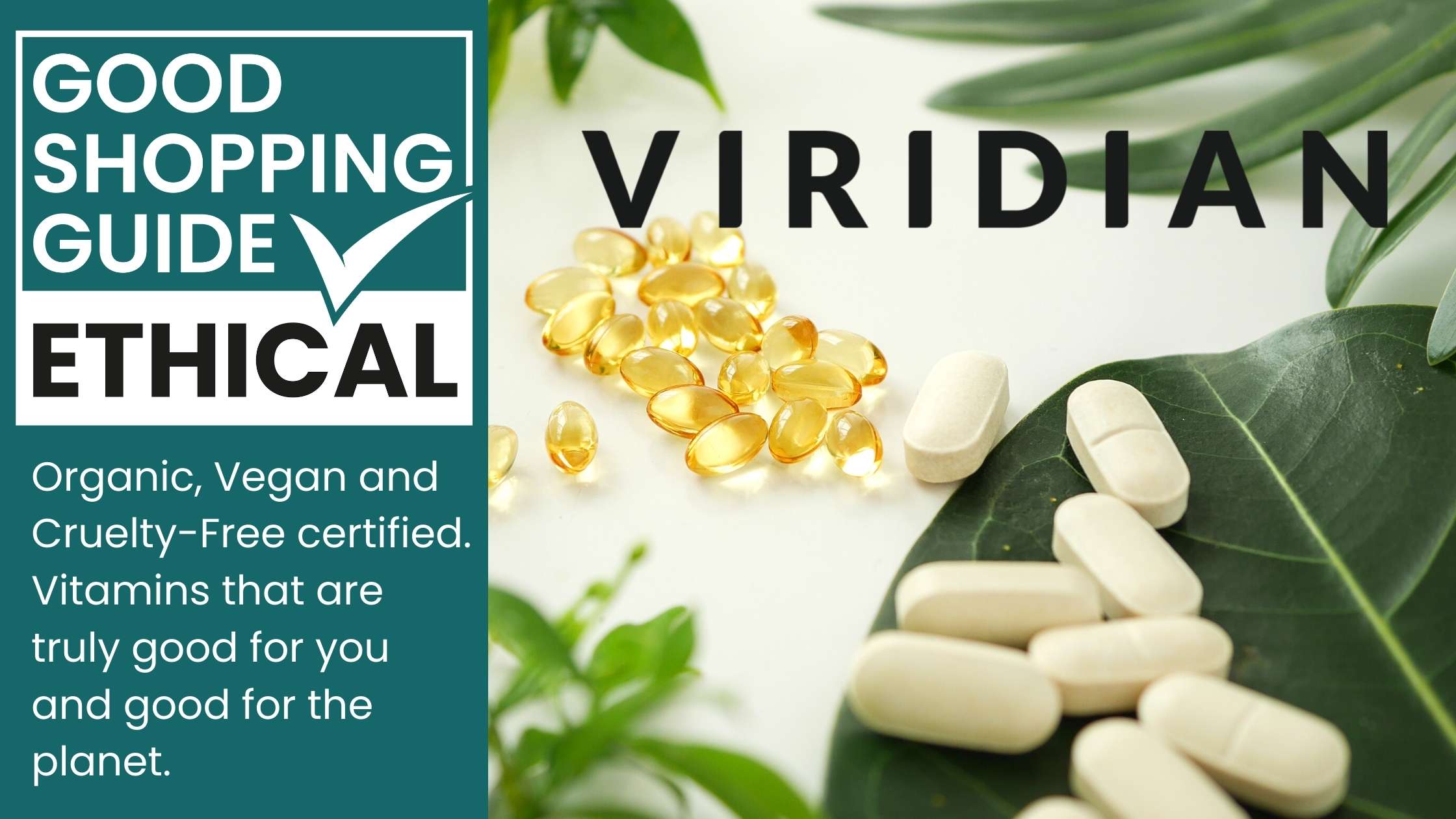 Are supplements vegan? … Viridian makes vegan vitamins!
The Good Shopping Guide is delighted to announce that Viridian Nutrition, manufacturer of ethical vitamins and supplements, has attained our Ethical Company Award for the 5th consecutive year, in addition to an exemplary placement in our Ethical Vitamins Ratings Table.
Viridian Nutrition was established in 1999 in Northamptonshire, United Kingdom. Founded by Cheryl Thallon, Viridian Nutrition is based upon the fundamental principles of developing a range of supplements with the highest possible ethical standards, whilst incorporating the key values of purity, environment and charity throughout. Having first launched with just 24 products, Viridian Nutrition has since expanded to offer sales, technical and marketing expertise to support more than 180 products, and is available in more than a dozen countries worldwide.
Our research team's findings mirrored the ethics outlined by Viridian Nutrition. Our independent ethical audit includes examining a company's performance across multiple areas including Environment, Animals and People related criteria. Viridian Nutrition excelled in all areas of our assessment due to factors including having a detailed environmental report, using ingredients free of genetic modification and not testing/commissioning any testing on animals. Furthermore, Viridian Nutrition has received certification from the Soil Association and Cruelty Free International to substantiate their product range's claims as being over 80% organic and entirely cruelty free.
In addition to the areas covered by our assessment, Viridian Nutrition further continues to excel in its efforts as an ethical and sustainable brand. This includes using minimal packaging for their products, with the security jacket being compostable and even offering a 25p refund for bottles returned to the point of purchase. Moreover, Viridian Nutrition is the world's first vitamin company to become certified as palm-oil free, due to the multitude of issues associated with unsustainable palm oil, such as deforestation and loss of biodiversity.
Lastly, Viridian Nutrition's charity work deserves its own separate recognition. From conception, Viridian Nutrition has always had a strong focus on raising money for children's and environmental charities alongside its business operations, and continues to today. Viridian Nutrition believes in letting its stockists decide which charities to support, with the stipulation that 40% goes to children's charities, 40% to environmental charities, and the remaining 20% goes to a combination of other charities. Additionally, no charities involved in animal testing or research will be considered. With this established rationale, Viridian Nutrition has gone on to donate upwards of £390,000 to various charities, including Friends of the Earth, NSPCC, Woodland Trust, UNICEF, The Prince's Trust, Comic Relief, RSPB, Terrence Higgins Trust, Shelter, Save the Children and more.
Given this information, The Good Shopping Guide is incredibly proud to feature Viridian Nutrition in our roster of Ethically Accredited Companies. We were incredibly impressed by multiple factors, including Viridian Nutrition's Ethical Company Index Score, charitable initiatives and demonstration of strong company values throughout all endeavours. We love to see companies that define a clear mission, and then execute them with clear, accountable actions that make a lasting impact, and Viridian Nutrition is a great example of this.
Find out more about Viridian Nutrition on its website: www.viridian-nutrition.com
If your brand is interested in becoming Ethically Accredited with The Good Shopping Guide, you can fill out our Initial Assessment Form here.
Sign up to our newsletter