Congratulations to Waken, a mouthcare brand with sustainability at its heart, on achieving Ethical Accreditation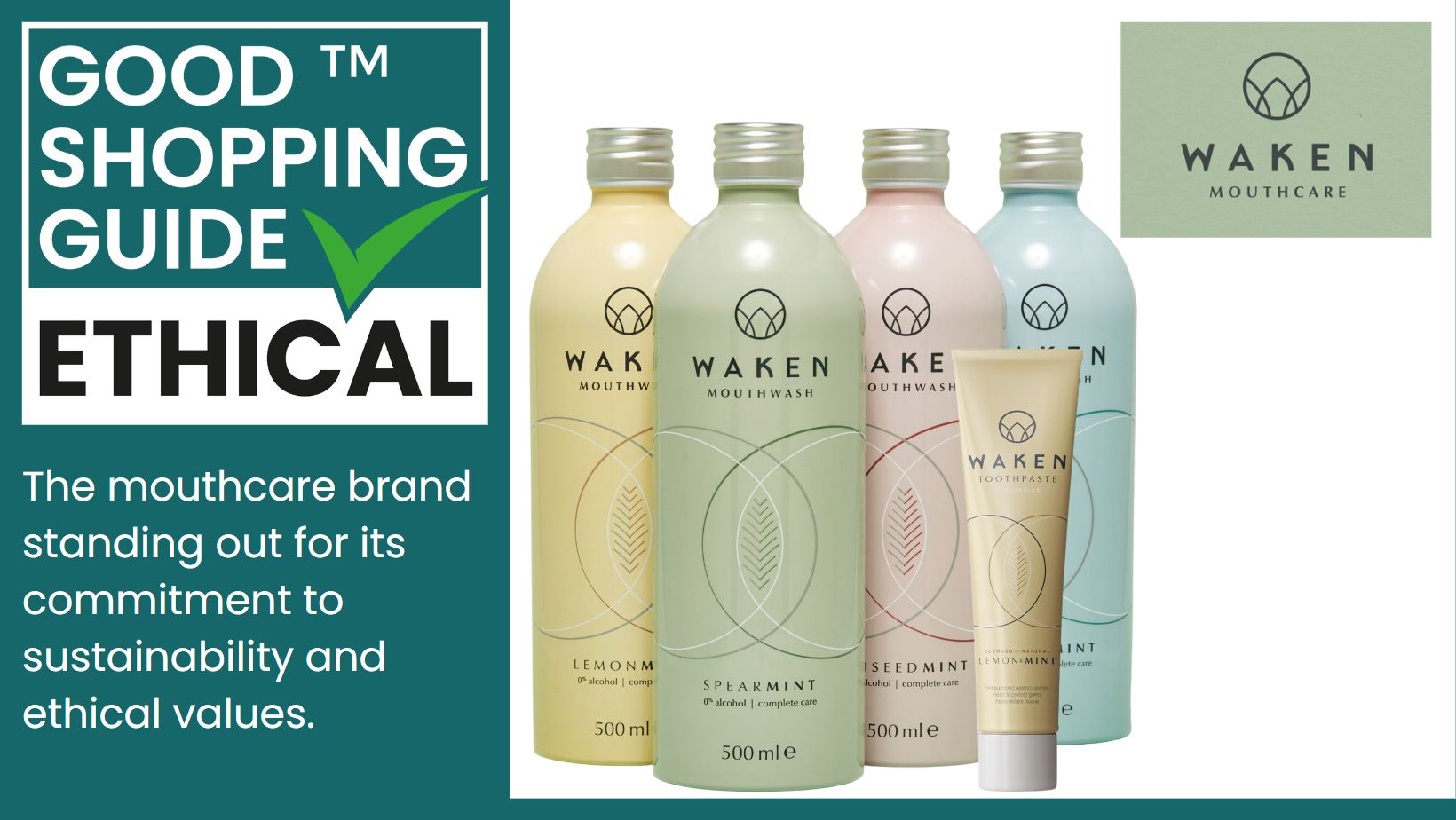 Today we are congratulating Waken for achieving Ethical Accreditation with an impressive GSG score of 92! Thanks to its use of recycled and recyclable packaging and cruelty-free practices, the brand has received recognition for being environmentally-friendly and socially responsible. We all use oral care products daily, and Waken stands out for its commitment to sustainability and ethical values.
Waken has taken impressive steps to minimise its carbon footprint by ensuring that its mouthwashes are carbon neutral. The brand is compensating for carbon emissions created during the production and distribution of its products, by supporting verified carbon offsetting projects that help to reduce carbon emissions elsewhere. In doing so, the brand is contributing to the fight against climate change and actively working towards a more sustainable future and scores highly in The Good Shopping Guide's criteria.
Sustainability is at the heart of Waken's ethos, and it has made significant efforts to ensure that its packaging is as eco-friendly as possible. Waken toothpaste tubes are made from recycled, and endlessly recyclable, aluminium. Other packaging is made from sustainably sourced FSC cardboard, and its mouthwash bottles are crafted from 100% post-consumer recycled plastic. These measures helped the brand impress our researchers and score highly in our environment criteria.
Waken Mouthcare's products contain no animal-derived ingredients, and are approved as vegan by The Vegetarian Society. The brand is committed to its ethical values and takes steps to ensure that its suppliers also uphold ethical and sustainable standards.
Waken has a strict animal testing policy confirming that their products are cruelty-free and not tested on animals at any stage of production. The brand is committed to using only ethical and sustainable practices in the manufacturing processes, which means that it does not support the use of animals in any way.
In addition to its commitment to sustainability and ethical values, Waken also has a Diversity & Equality Policy. The policy focuses on eliminating discrimination and sets out the fair treatment of all employees fairly according to their needs. The brand is committed to promoting diversity and inclusion in the workplace and ensuring that everyone has equal opportunities to succeed.
Waken is clearly dedicated to promoting a more sustainable and ethical path. The brand is a wonderful example of how to create great products whilst not losing sight of what's important to consumers, and we hope that more companies will follow in its stead. A great place to start is by applying for The Good Shopping Guide's Ethical Accreditation, and we hope that more mouthcare brands will be inspired by the excellent work of Waken.
Sign up to our newsletter