Need An Ethical Bank? Triodos Bank Has You Covered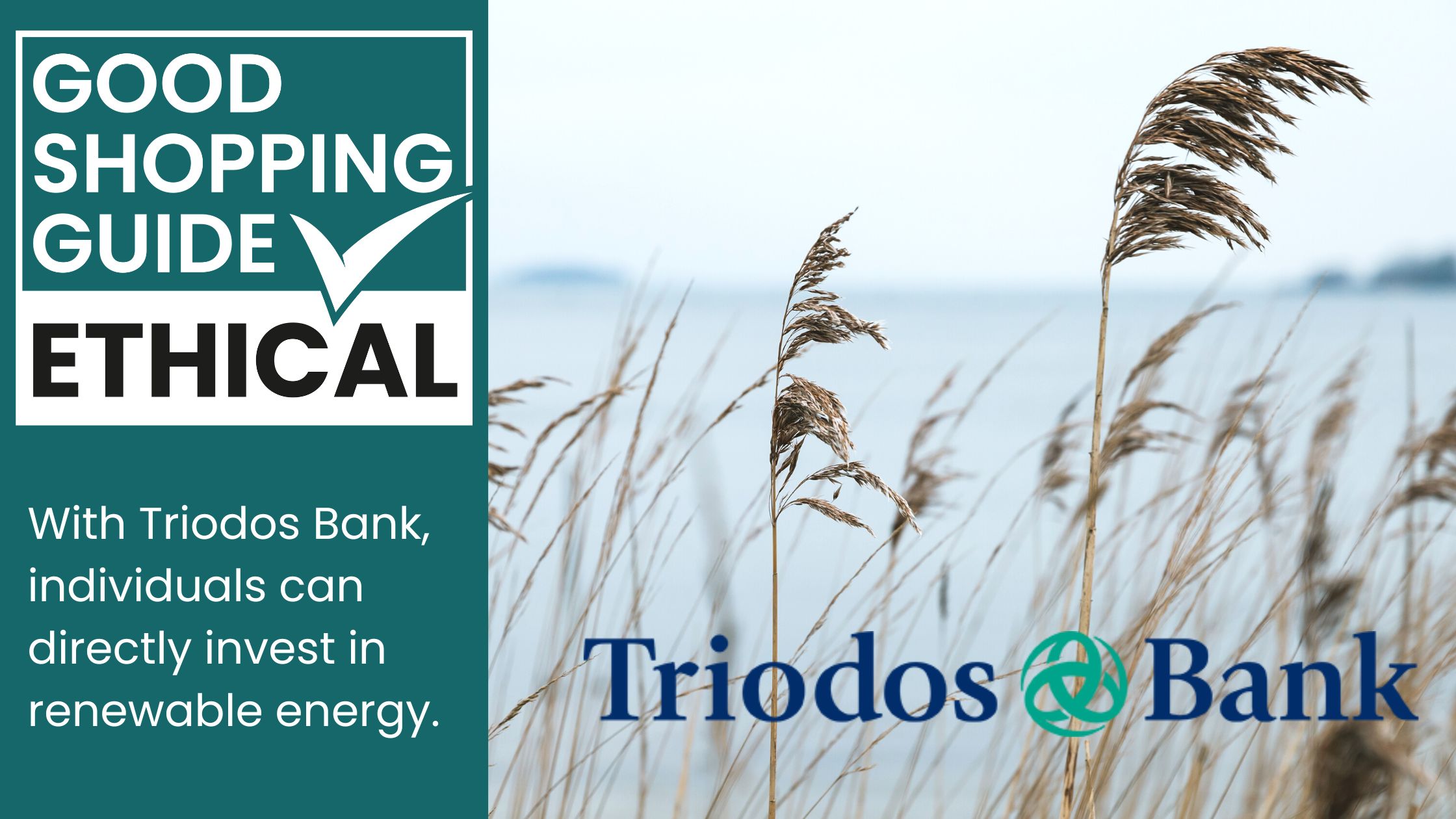 Ethical banks: Triodos Bank invests in climate change prevention
The Good Shopping Guide is delighted to announce that Triodos Bank UK, one of the leading sustainable banks, has attained our Ethical Company Award and a high ranking in our Ethical Banks & Buildings Societies Ratings Table.
Triodos Bank was established in the Netherlands in 1980 on the conviction that banking can be a powerful force for good and has since become known as one of the leading sustainable banks globally. Triodos has continued with this same conviction ever since, aiming to make money work for positive, social, environmental and cultural change and this was reflected in our subsequent assessment of the company. 
Firstly, this includes Triodos' incredibly proactive approach to Environmental matters. This includes actively seeking out lending to renewable energy and zero-carbon transport projects, in addition to companies and institutions that add cultural value and aim to benefit people and the environment. As a result, the banking side of Triodos lends funds to sustainable companies and considers the positive social, environmental or cultural impact of their activities in their assessment process prior to lending. The Investment Management side has similar considerations, enabling the management of impact funds to invest in companies with high sustainability performance. Triodos additionally implements various in office initiatives such as ensuring its buildings are as sustainable as possible through the voluntary undertaking of energy-efficiency audits for its offices, in addition to incorporating recycling and weighing the output with the aim of reducing it each year. 
Further to Triodos' internal operations, Triodos makes its public support of a shift to ethical and sustainable banking well known. This includes being signatories of the Principles for Responsible Banking, Principles for Responsible Investment and aligning its reduction of emissions with the Paris Agreement, in addition to being a certified B Corporation and members of The Climate Coalition, Green Alliance and The Aldersgate Group. Moreover, Triodos was a co-founder of the Global Alliance for Banking on Values (GABV) in 2009, a network of banks wanting to grow sustainable banking and its impact on the economy. Given this, it is of no surprise that Triodos scored admirably on the criteria included under our methodology's heading of Environment, whilst excelling beyond our scoring system as Triodos aims to revolutionise what it means to be a sustainable bank. 
Secondly, another key area our methodology incorporates is People-related criteria. Again, Triodos scored incredibly well, due to reasons such as having strict ethical standards that prevent irresponsible lending and not using political donations in an attempt to unduly influence the democratic system. In addition to not partaking in the negatives that we have found to be prevalent throughout the Banking & Building Societies sector, Triodos again exceeds expectations with its positive actions and active approach. This includes implementing unconscious bias and EDI (Equality, Diversity and Inclusion) training and using new platforms to increase the proportion of BAME applicants. 
Additionally, Triodos' commitment to this equal level of treatment and inclusion is reflected in its certifications and participation, including Disability Confident Committed Employer, Living Wage Employer, Women in Business Charter and Women in Finance Charter. From this it is evident that Triodos has stayed true to its original ethos, aiming to promote quality of life and human dignity for all. 
In conclusion, it is with pride that we announce Triodos has attained an Ethical Company Award and an incredible Ethical Company Index score. Our research has found that the Finance and Banking sectors alike are plagued by innumerable unethical practices and issues, such as deforestation, human rights conflicts and violations and even investment in nuclear weapons. Not only has Triodos not participated in such unethical practices, but it has openly stood against them and worked tirelessly over the past 41 years to stand as a testament to what the future of ethical and sustainable banks could, and should, become.
Find out more about Triodos Bank on its website: www.triodos.co.uk
If your brand is interested in becoming Ethically Accredited with The Good Shopping Guide, you can fill out our Initial Assessment Form here.
Sign up to our newsletter