Octopus Energy is awarded independent Ethical Accreditation.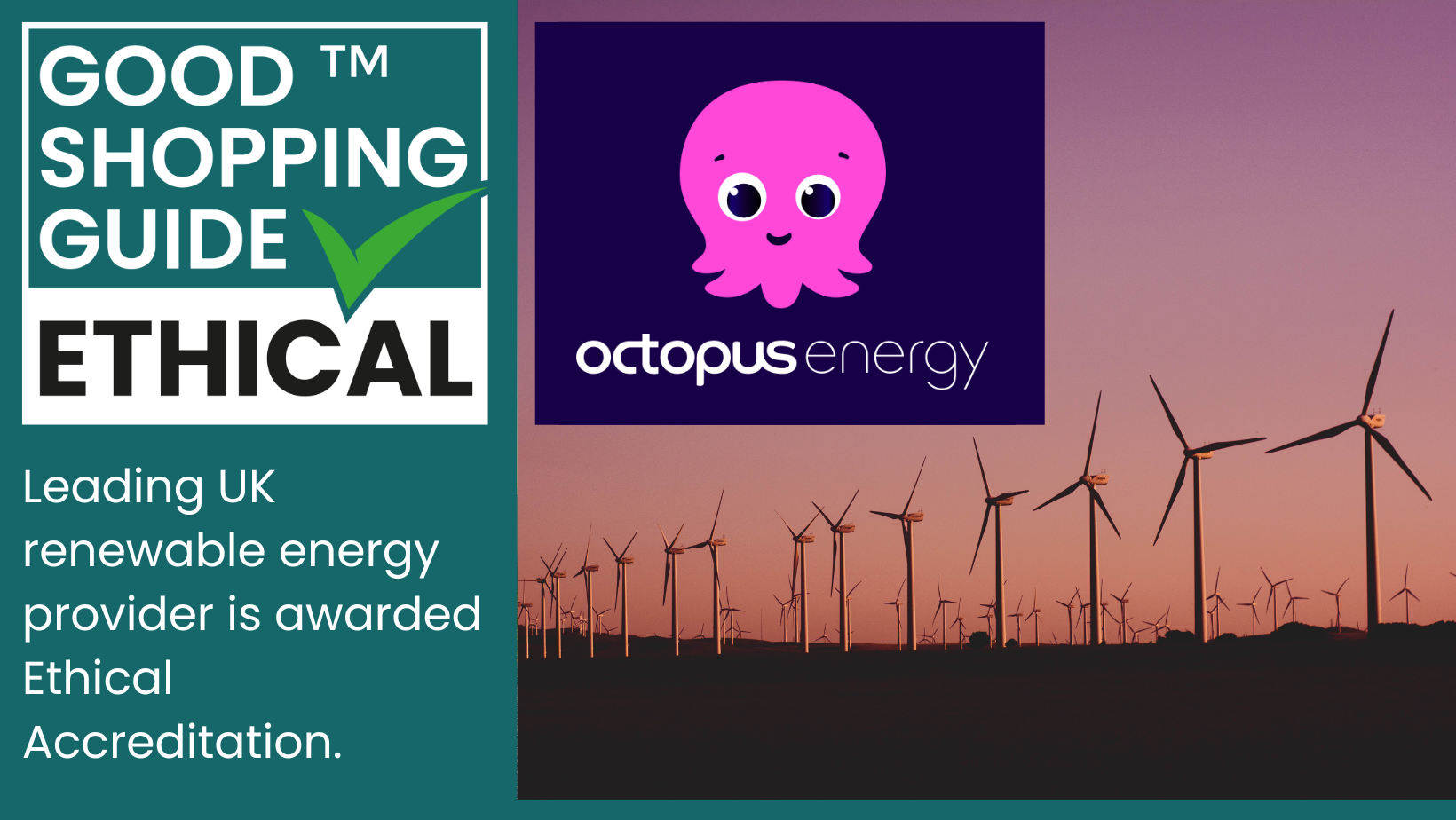 Octopus Energy, one of the UK's leading ethical energy providers, has attained Ethical Accreditation from The Good Shopping Guide! We are pleased to welcome Octopus Energy into our community of leading ethical companies which place sustainability and ethics at the forefront of their values.
After a detailed examination of the companies in our Ethical Energy research, Octopus Energy was revealed as the best-rated company in the sector, with an outstanding GSG score of 100. This means that Octopus Energy received the highest possible ethical score, with a top rating in every category of our assessment. The research encompasses issues relating to the Environment, Animals and People, examining companies on their policies and practices, including both their positive and negative impacts.
Octopus Energy prides itself on its commitment to facilitating a green future, which it helps to achieve by offering 100% renewable energy tariffs across the UK. The company's fuel mix is fully made up of green energy, which has resulted in a top rating for the Energy Mix criterion. Octopus Energy also supports renewable energy generation by operating wind farms in the UK and has committed £5 million towards founding the Centre for Net Zero, an open research laboratory to contribute to research in low carbon energy.
Additionally, Octopus Energy's latest sustainability report details the company's pledge to reduce its carbon footprint and ultimately become Net Zero by 2030 at the latest. The company is working towards this transition by improving energy efficiency in its offices, cutting transportation emissions and offsetting its carbon footprint. Through its carbon offsetting partner, Renewable World, Octopus Energy has offset 708,700 tonnes of carbon dioxide – the equivalent of 864,268 flights!
Octopus Energy also pays attention to other sustainability issues that it seeks to address, such as recycling and waste in its offices. The company works with First Mile to achieve zero waste to landfill in its offices and recycles all its electronics using WEEE (Waste Electrical and Electronic Equipment) recycling. Due to its extensive environmental policies, Octopus Energy receives a top rating for the Environmental Report category.
Crucially, Octopus Energy was not found to be involved in the nuclear power industry. This confirms that all the company's low carbon energy comes from renewable green sources and not from controversial nuclear fuel. Octopus Energy also has a clean record on human rights abuses and environmentally harmful activities, which are major concerns for other companies within the Energy sector. The company, therefore, receives a top rating in the Pollution and Public Record Criticisms criteria within our Energy research.
Moreover, Octopus Energy's policies demonstrate the company's concern for its employees and customers. Diversity and Inclusivity is a key part of the company's working culture. The Octopus Equality Foundation helps to provide people from all walks of life with employment opportunities by offering internships in operations, technology, data and energy generation. Octopus Energy is also supporting its customers during the cost of living crisis through the OctoAssist fund, a £15 million customer help fund and collection of support schemes aimed at providing additional help to the company's most vulnerable customers.
The Good Shopping Guide is delighted to work with a company with such strong values and ethics. Octopus Energy demonstrates that successful ethical companies can achieve great things for people and the planet. We particularly commend Octopus Energy's role as a key player in facilitating the UK's transition renewable energy, which will ultimately result in a greener future for us all.
Visit the Octopus Energy website to find out its options for renewable energy tariffs or explore the company's profile page in The Good Shopping Guide.
Sign up to our newsletter