Scottish Water and Recycled Plastic Bottles: Highland Spring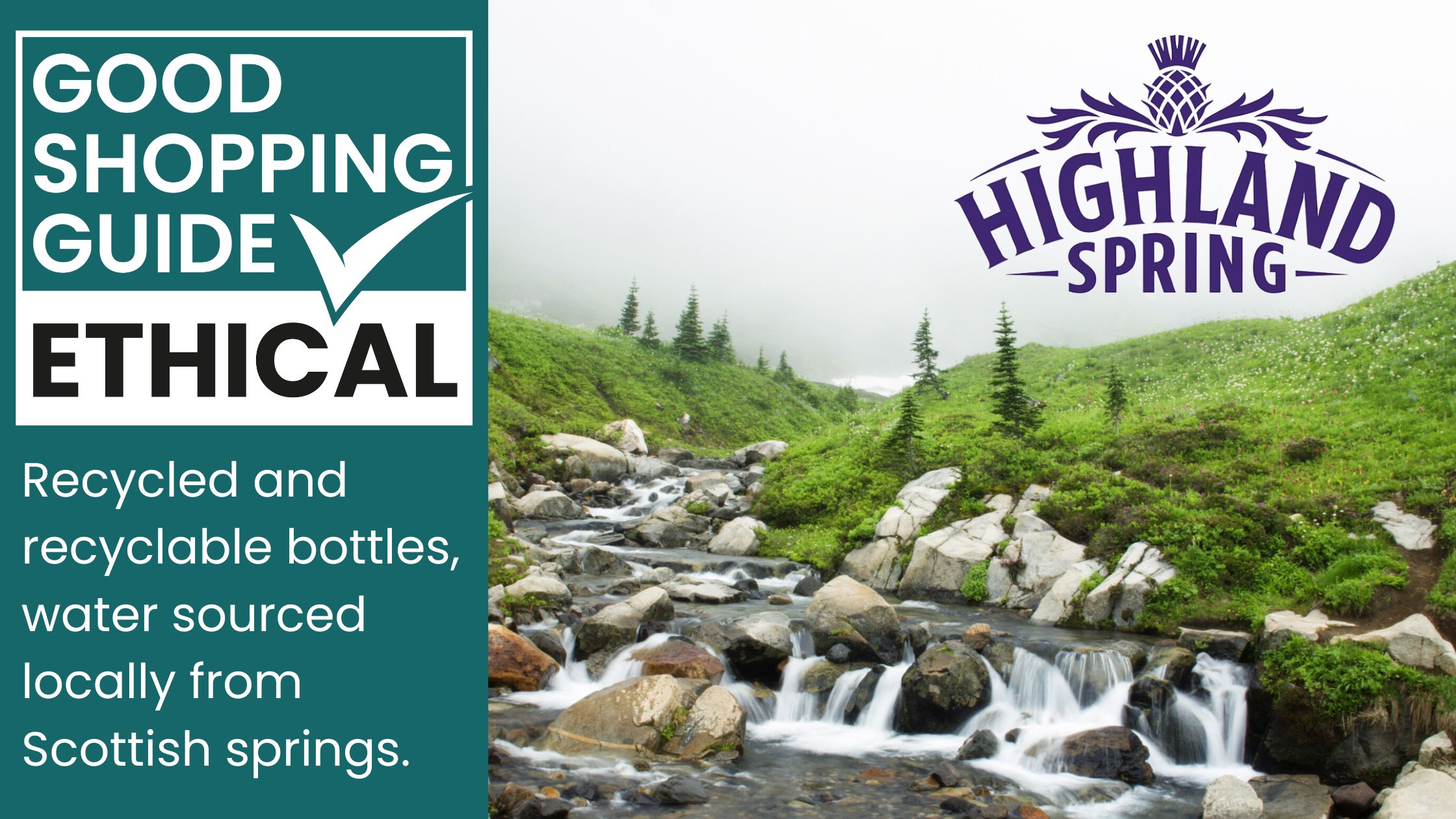 Recyled plastic bottles: finally, an ethical bottled water brand!
The Good Shopping Guide is happy to announce that Highland Spring, the Scottish producer of natural source water in recycled bottles, has attained our Ethical Company Award for the 14th consecutive year, in addition to an exemplary placement in our Ethical Bottled Water Ratings Table.
Highland Spring was founded in 1979, with the aim of providing high quality, healthy hydration, and in recent years has explored ways to achieve this in an environmentally sustainable way.
Our independent ethical assessment of Highland Spring reflected these values of commitment to not only the Environment, but also to the Animals and People sections of our criteria. Highland Spring excelled across all areas of our assessment for reasons such as having a detailed Environmental Report, having Organic certification from the Soil Association and being free from Public Record Criticisms.
In addition to the areas covered by our assessment, Highland Spring has a variety of impressive initiatives across the categories of Environment and People. The most notable of these was Highland Spring's introduction of an Eco Bottle, which was the first bottle released by a major water brand to be made entirely from 100% recycled PET plastic, in addition to being 100% recyclable. Further to this, Highland Spring has also recently launched its most sustainable multipack to date, featuring 100% recycled plastic shrink-wrap. This is in line with Highland Spring's recent announcement of having set the target of working with partners to achieve a 90% recycling rate for bottled water and soft drinks packaging by 2025. Further to this, since 2005 it has reduced the weight of the plastic used in bottles by 13.9%, produce all plastic bottles at its base to reduce road miles and ensured all sparkling glass bottles contain at least 80% recycled glass.
Beyond a product level, Highland Spring continues its ethical commitments further. On an Environmental level, this includes partnering with the award-winning environmental organisation, Hubbub, to encourage recycling on-the-go, in addition to the environmental charity, Keep Scotland Beautiful, to reduce litter along key highways in Scotland. Other partnerships include supporting the Scottish and UK governments on the introduction of Deposit Return Schemes, signing Wrap's Plastic Pact to commit to using reusable plastics and supporting various organisations, most recently including the Scottish Ambulance Service. Lastly, Highland Spring has committed to achieve net-zero emissions by 2040 and become carbon neutral by the end of the year.
Given this information, The Good Shopping Guide is proud to recognise Highland Spring as one of the ethical leaders of the Bottled Water industry. Whilst reusable bottles are the overall best ethical choice, situations arise where Bottled Water can be a necessity, and it is safe to say Highland Spring is one of the leading ethical choices of Bottled Water brands. Highland Spring has scored exceptionally across our ethical assessment due to numerous factors, and must be commended for its continuous commitment to sustainability across all efforts.
Find out more about Highland Spring and the Highland Spring Group on its websites:
www.highlandspring.com or www.highlandspringgroup.com
If your brand is interested in becoming Ethically Accredited with The Good Shopping Guide, you can fill out our Initial Assessment Form here.
Sign up to our newsletter