Which Is The Best Vegan Milk? Find Out From Our New Ratings Table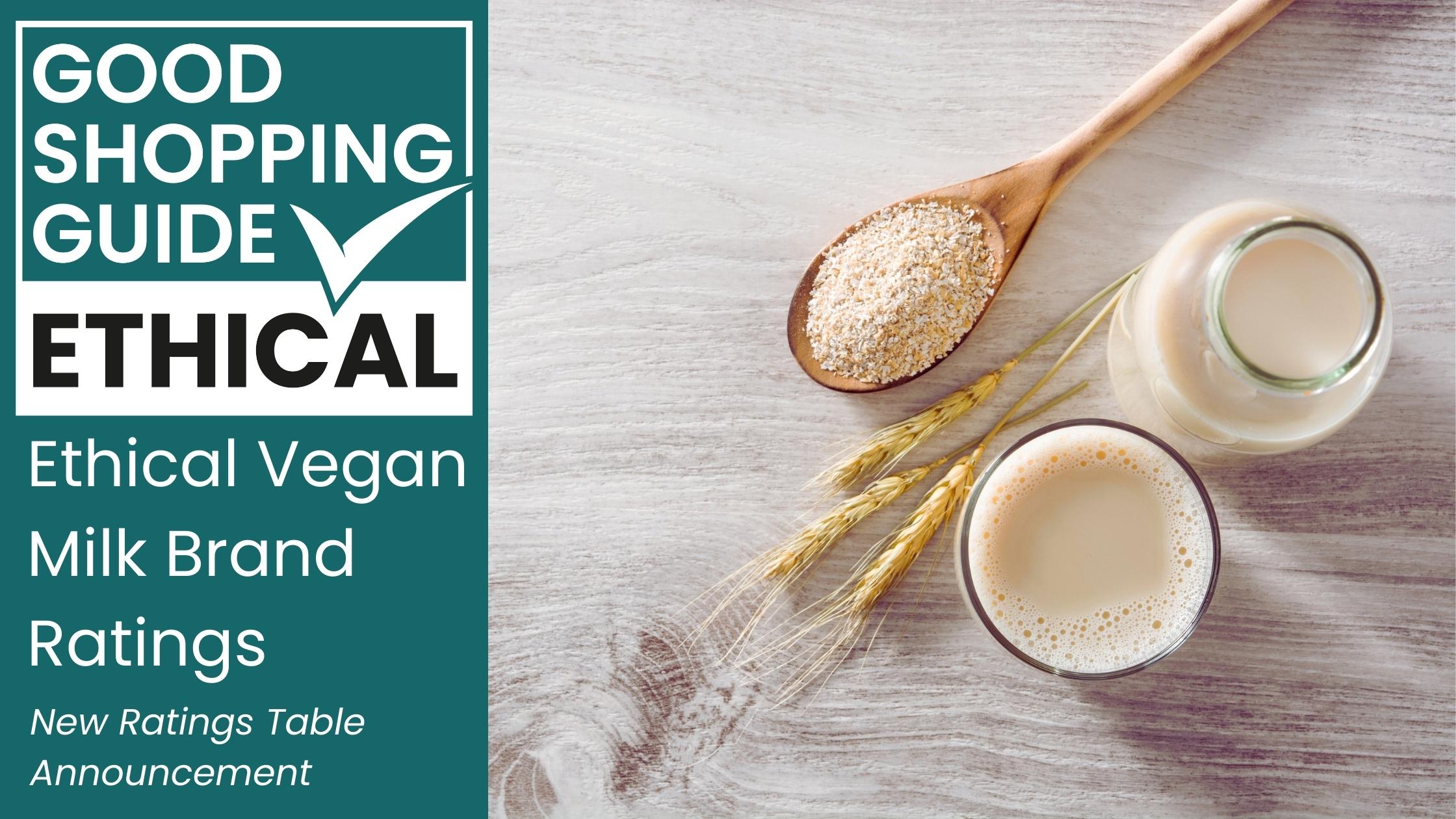 A New Sector Announcement
The Good Shopping Guide research team has recently added a brand-new Vegan Milk Ratings Table, where you can identify the most ethical and sustainable vegan milk brands to choose from.
This new ratings table features brands that sell various types of vegan milk, such as oat milk, soy milk, almond milk, and more! This includes ethical ratings for popular plant milk brands such as Oatly, Alpro, and Minor Figures. Find out how your favourite milk alternative brands score, and which vegan milk is best for ethical consumers…
Our research is constantly evolving to account for changes in the world of sustainability. Looking into the ethics of vegan milk was the perfect next step for us, given the rising popularity of dairy milk alternatives amongst ethical consumers.
Although vegan milk is generally considered more sustainable than dairy milk, unfortunately, there are still ethical concerns within the industry. The latest Vegan Milk brand ratings reveal that some brands are not as ethical as you may think. (We're looking at you, Oatly…)
Blackstone Group and its connection to Oatly
Oatly, one of the most well-known oat milk brands, is one example of a brand that exaggerates its ethical status. Blackstone, an investment and private equity company which is known for unethical practices, owns minority shares in Oatly.
Blackstone has repeatedly come under fire for its role in the deforestation of the Amazon rainforest. Two of its Brazilian companies have been involved in land clearance, deforestation, and the building of a controversial highway, all to facilitate the cultivation and export of grain and soybeans.
Many ethical consumers really enjoy Oatly; why not try making your own oat milk if you want an ethical alternative to this brand. Here's a simple guide 'How To Make Your Own Oat Milk.'
Danone's acquisition of Alpro
There are also ethical problems with the popular vegan brand, Alpro, which sells many different types of vegan milk. Alpro is owned by Danone. Danone has been criticised for its involvement in many unethical activities, including deforestation, human rights abuses, and plastic pollution.
Fortunately, our Vegan Milks Rating Table also includes some outstanding brands with strong ethical values and no links to unethical activities. Many of the top-rated brands also offer organic vegan milk for consumers concerned about the use of herbicides and pesticides in non-organic products.
The full list of ethical ratings, including the scores for each brand, can be found on the Vegan Milk Ratings Table. Additionally, for more information on the ethical and sustainability issues within the sector, check out our article on Vegan Milk.
Sign up to our newsletter