How ethical is Arma Karma?
Arma Karma is a UK based insurance intermediary, and was established in 2019. Arma Karma underwrites on behalf of a range of "A" rated insurers. You can find Arma Karma's registration with the Financial Conduct Authority here. Arma Karma is one of The Good Shopping Guide's top-rated ethical brands.
The brand receives an excellent Good Shopping Guide ethical score of 100 in our Ethical Insurance Ratings Table and therefore successfully passes our ethical benchmark.
We encourage other companies in the Insurance sector to follow Arma Karma's example and adopt more ethical policies and practices.
In which areas does Arma Karma perform well?
Arma Karma performs well across all of our criteria for the Environment, Animals and People. Partnering with many ethical charities and environmental organisations, as a small business, Arma Karma meets The Good Shopping Guide standards well and truly.
What makes Arma Karma so sustainable?
Arma Karma has a wide range of sustainable initiatives that further the brand's ethical status. The brand's Ecologi profile states that Arma Karma has contributed towards 73.63 tonnes of carbon reduction and has planted 2754 trees through using Ecologi.
Over the next three years, Arma Karma are also aiming to raise £1 million for charities and organisations that help the Environment, Animals and People. 25% of every sale as commission revenue goes towards a charity, that the customer can choose themselves!
Their offices in Colchester, at the Innovation Centre, use "solar panels, stringent recycling procedures and even […] reduce[s] water consumption" in order to reduce their environmental impact.
How did Arma Karma attain Ethical Accreditation?
Arma Karma has attained Ethical Accreditation from The Good Shopping Guide. This involved an application process and a full review of the brand's ethical policies and practices. Arma Karma is subject to an annual review to ensure the company maintains high ethical standards.
As a result, Arma Karma is permitted to use our Good Shopping Guide Ethical logo, which certifies the brand's ethical status and allows consumers to recognise Arma Karma as an ethical brand.
Ethical performance in category
0
70
GSG category benchmark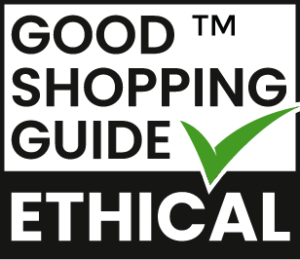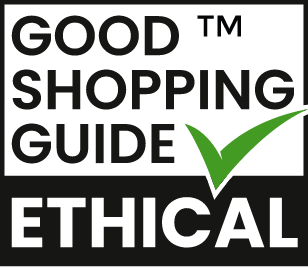 Awarded Ethical Accreditation
Ethical Rating
Environment
Environmental Report

Good

Environmental Destruction

Good

Carbon Disclosure & Reduction Targets

N/A
People
Irresponsible Lending

Good
Other
Ethical Accreditation

Good

Responsible Investment Policy

Good
= GSG Top Rating = GSG Middle Rating = GSG Bottom Rating