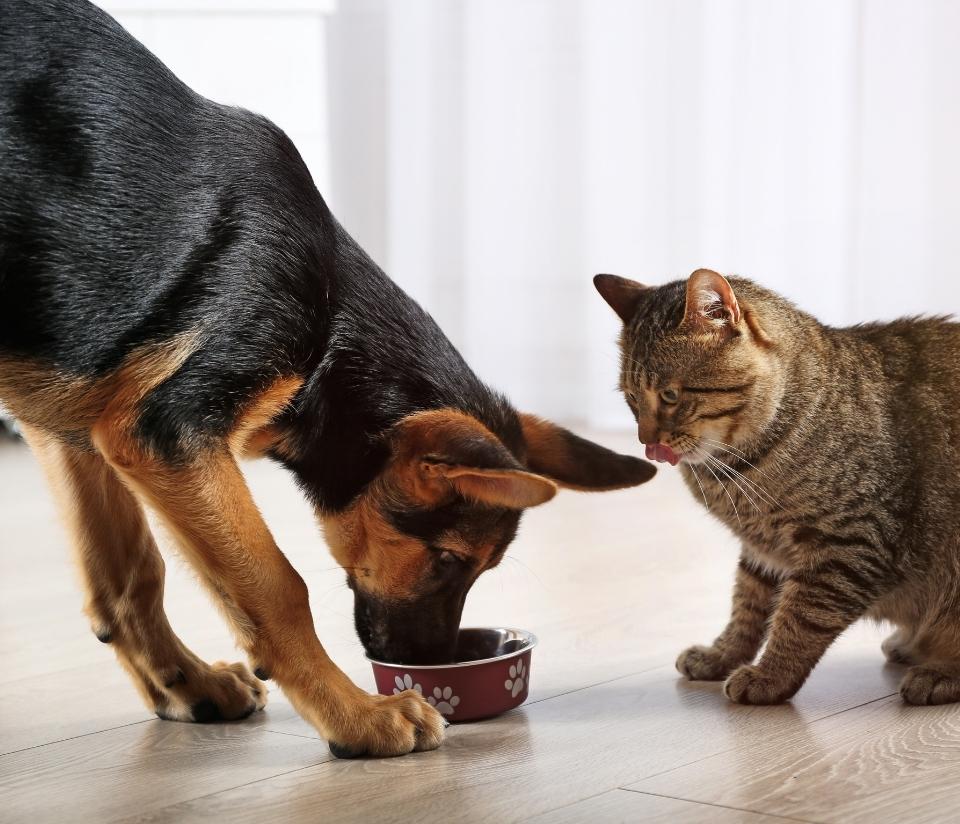 Is Vegan Dog Food Healthy? Ethical & Sustainable Dog & Cat Food…
See our Ethical Cat & Dog Food Ratings Table to compare brands.
What are the ethical issues with pet food?
One study published in The Guardian has recently rocked the vegan dog food world. According to this study, a vegan diet for Fido can be even healthier than a meat-based one! Socially conscious consumers are becoming increasingly aware of the sustainability issues associated with owning a pet. One of the main issues is the large amount of meat pets require within their diets. Celebrities like Lewis Hamilton, Alicia Silverstone and Joaquin Phoenix have all helped to popularise vegan pet food.
Our Ethical Cat and Dog Food Ratings Table shows you a wide range of options for feeding your pet, including raw dog food, vegan dog food, as well as traditional cat and dog food products. We recommend choosing from a brand in the green section of the table, particularly those that have attained Ethical Accreditation, as they have been awarded the best ethical ratings in our research.
Is vegan dog food healthy for my pet?
The British Veterinary Association does not recommend a 100% vegan dog food diet. However, providing you have done the research on what nutrients your dog needs, including some vegan dog food options within your pet's diet may be a good way to reduce their environmental impact. Incorporating vegan dog food into your pet's diet helps the planet whilst also providing your pup with valuable nutrients. Studies suggest that vegan dog food can have many benefits, from assisting with allergies and digestive issues, to relieving joint pain and arthritis. Vegan dog food may also be useful for managing your dog's weight, an important benefit given the rise of canine obesity.
It might feel a little unnatural to feed vegan dog food or vegetables to a relative of the wolf. But one study published by The Guardian found that vegan dog food might actually be healthier for dogs, as well as more ethical.
According to the study, 17% of dogs on conventional diets saw the vet four or more times in a year. However, only 9% of dogs on vegan dog food diets and 8% of dogs on raw meat diets saw the vets four or more times in a year. The traditional diet resulted in 49% of dogs suffering from health problems. A raw meat diet resulted in 43% and the vegan diet resulted in 36% of dogs suffering from health problems. Although survey-based studies cannot identify the reasons for their findings, one scientist noted that weight issues could be a significant factor, as traditional diets are high in calories.
Owners must ensure that their dog is getting all of the right nutrients for its age and size. Buying vegan dog food labelled 'complete' will ensure that your dog is getting all of its dietary requirements. We urge you to speak to a vet before making any significant changes to your pet's diet.
Fortunately, there are now many pet food brands offering more sustainable and eco-friendly products. Vegan dog food is a great option for dog owners who are conscious of the environment. Check our Ethical Cat and Dog Food Ratings Table to browse the products.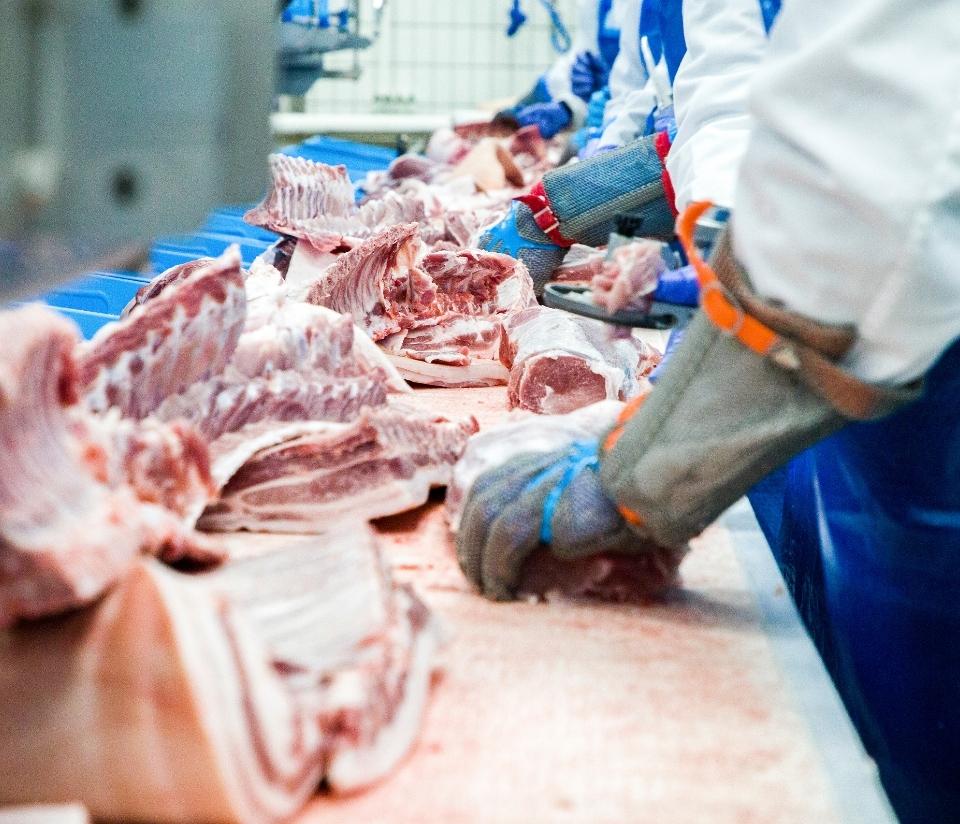 The pet food meat industry
Did you know that roughly one quarter of the environmental impact of meat production comes from the pet food industry? The raising of livestock for pet food not only requires a large amount of land and water, but also has a high carbon 'pawprint'.
Plastic pet food pouches are a popular choice amongst pet owners. This is a big concern, as these are primarily made up of single-use plastics and are discarded on a daily basis.
According to the International Union for Conservation of Nature (IUCN), around 14 million tons of plastic ends up in our oceans every year. Plastic packaging eventually breaks down into toxic microplastics which pollutes the ocean and damages marine life. Purchasing pet food products in single-use plastic only contributes to this issue.
We therefore encourage you to choose pet food products using recyclable or plastic-free packaging. Fortunately, lots of brands now offer sustainable packaging options, many of which can be found in our Ethical Cat & Dog Food Ratings Table.
Our research: Animal cruelty within the pet food sector
Many animal lovers may be shocked to learn that pet food products are often tested on animals. This is clearly an issue for pet owners who are concerned about the welfare of ALL animals, not just their pets!
Our research found that several pet food companies are still involved in animal testing, with some of the worst offenders being Mars and Nestlé. Mars owns several popular pet food brands, including Whiskas, Pedigree, and Royal Canin. Similarly, Nestlé owns Go Cat, Felix, Bakers, and Lily's Kitchen. We recommend avoiding these brands if you want to feed your pets with a clear conscience, look for brands who received a bottom rating under Animal Welfare in our table.
You will be pleased to know that none of our accredited companies test their products on animals, so choose from one of these brands if you want assurance that your pet food has a high standard of animal welfare.
Organic cat food as ethical pet food
But let's not forget our feline friends! Cats are strictly carnivorous, and need meat protein in their diets to stay fit and healthy. They cannot easily digest carbohydrates like humans and dogs can. The Blue Cross does not recommend that you feed your cat on a vegan diet. However, organic cat food means that the stock has not been reared on feed contaminated by pesticides, herbicides or fungicides, all of which cause severe damage to people, wildlife and the environment.
See the full Ethical Cat & Dog Food Ratings Table to find out more.
The Good Shopping Guide's team of researchers have written individual brand write-ups and reports, detailing exclusive information on the biggest brands. Click on a brand name to find out more about its ethics and sustainability efforts.
Benevo, Celtic Connection, Edgard & Cooper, Pets Deli, V-Dog, Yarrah, omni, AATU, Barking/Meowing Heads, Broadreach Nature+, Burns, Goood, HOWND, Naturaw, Noochy Poochy, Paleo Ridge, People Who Kaer, Scrumbles, Amanova, Beco, Bug Bakes, Feelwells, Green & Wild's, Henley Raw, Hug Pet Food, KooKut, Mammaly, Mr Bug, Thrive, Trophy Pet Foods, Sir Woofchester's, Butcher's, Wagg, Best in Show, Encore, Pascoe's, HiLife, Webbox, Eukanuba, Iams, Bakers, Felix, Go-Cat, Lily's Kitchen, Hill's, Pedigree, Royal Canin, Sheba and Whiskas.